Spektrix is designed to keep your customers on your own website, giving you full control of the purchase path, without responsibility for complex development work. We give your web developer the tools to help you remain agile and adapt to changing trends, while we do the technical work to keep things running smoothly.
Customers can book from any device whilst remaining on your site, encountering your brand style and messaging throughout the journey and enjoying a seamless, reliable booking experience, whilst you retain all the data about their online behaviours and journeys.
Our close working relationships with web developers help them to maximise the effectiveness of every site, using our tools creatively to build an online customer experience that matches the quality of service customers receive when they arrive at your events.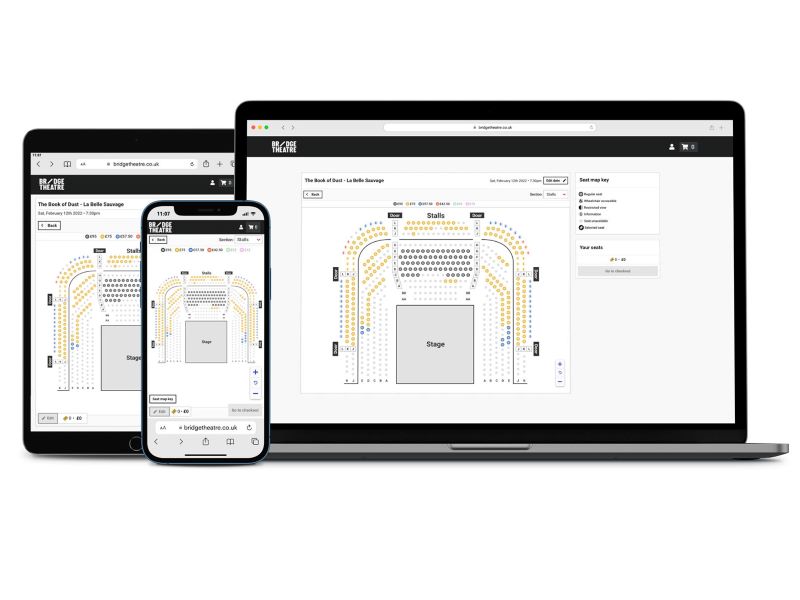 Developing a brief for Spektrix web integration
Inviting a web developer to integrate a booking journey into your website is a big decision, whether you're starting from scratch or continuing an existing relationship. Often your website and booking pathway will be audience members' first contact with your organisation, and their experience should express your artistry and values as well as generating online sales and donations.
Whether you're an existing Spektrix user, or you need to understand the scope of work involved in switching to Spektrix, we're here to help. The Spektrix Partner Directory is packed with great examples of web integrations, and is the ideal starting place if you're looking for a new web partner with experience working with Spektrix.
FOR YOU
Invite us to take a look at your tender - we can advise on technical requirements to get the most from your integration.
Include us in pitches with your shortlisted agencies. We'll help assess agencies' approach to the technical integration with Spektrix, so you can focus on the look, feel and experience that truly represents your brand.
Use the template brief on this page to understand what's involved in a successful integration, and what you're looking for in an agency's response. Personalise and share the document as part of a tender for a new site, or as a standalone brief for integration into an existing web journey.
FOR WEB DEVELOPERS
The provides full documentation for building an integration with Spektrix, helping developers give an informed response to your brief.
Our Support, Training and Consultancy team can support you and your developers with technical questions and best practice ideas - we're happy to work with you during the process, or before you commit to the change.