4 min read
Actionable Strategies for Building Audience Loyalty
Audience loyalty drivers are changing as behavior and expectations shift. Actionable, low-investment strategies can deepen loyalty and cultivate new audiences.
Jane Whitty, Senior Consultant at Capacity Interactive, sets out three actionable and low-investment strategies to deepen loyalty with your current audiences and work to cultivate new audiences. Using examples from a number of arts and culture organizations, she takes a look at these strategies in action.
This content was first presented in February 2023 as part of The Future of Patron Loyalty, a panel event hosted by Spektrix. If you missed out, we've now published the full event online - helping you to explore what customer loyalty means for theaters, cultural venues and touring organizations in the post-pandemic world.
Use first-party data to build on existing relationships
In a changing tracking and privacy landscape, first-party data is key. We've likely all heard the term "first-party data," but what are we talking about really? In short, first-party data is data your organization owns. This includes all of the information in your CRM system, like ticket buyer data or contact information for people who've signed up for your email lists. It also includes actions people take on your website.
First-party data isn't just a marketing buzzword; it can also be used to facilitate powerful strategies to build loyalty.
In a recent subscription campaign for New York City Ballet, we used their first-party customer data to segment our targeting based on past buying behavior. In this paid Facebook and Instagram campaign, we ran three CRM segments: one reaching unrenewed subscribers, one reaching multi single ticket buyers, and one reaching those who purchased a single ticket in the past. We then served customized content to those audiences that aligned with their relationships to the organization.
In the copy for our post reaching unrenewed subscribers, we assumed that the viewer knew a bit about City Ballet, as they had been a subscriber in the past. The language evoked excitement as well as flexibility, and the call to action was to return.
Post 1: Unrenewed subscribers

Our post for past single ticket buyers offered more information on the benefits of subscribing and spoke to that audience's current relationship with the organization. Because we knew this audience might need a push, the call to action highlighted a discount.
Both posts, along with the first-party data strategy of the campaign, worked to increase audience loyalty by treating these prospects as distinct and acknowledging that each audience needed something different to take that next step in their loyalty journey.
Post 2: Single ticket buyers

But what if your first-party data needs a boost? Lead generation campaigns on Facebook and Instagram help you to find new audiences who are interested in your programming. This campaign objective allows for the gathering of leads, most often email addresses, from users who are raising their hands and saying "please contact me".
Build loyalty from day one
This example from 1812 Productions highlights how they use paid social campaigns to find audiences who are interested in hearing more about upcoming productions. When we launch our single ticket campaign for 'The Play that Goes Wrong', we'll incorporate those new leads as a segment. Before we do though, the team at 1812 Productions will be sending welcome emails and other dedicated communication to this group to introduce them to the organization and begin building a relationship with these new prospects. This allows them to continue the cultivation process outside of paid platforms and build loyalty from day one.

Message benefits over features
Features describe your product. Benefits speak to your audience's needs and wants. Benefits-driven messaging tells your audience how you can fit into their lives by helping to solve a problem, create a feeling, or provide a service.
Crystal Bridges Museum of American Art wanted to invest in building deeper loyalty within their local audiences. Capacity Interactive's content team helped create this post for Crystal Bridges Museum, an excellent example of how benefits-focused content can help solve a problem for your audience and increase their loyalty. Because who doesn't love an organization that makes our lives better?

Here, we addressed a common problem: finding a staycation with something for everyone. The solution? Crystal Bridges offers a wide range of things to do, so everyone is happy - and it's right in the neighborhood. In this post, we used an image carousel to highlight everything available in a visit to Crystal Bridges, and the copy called out the benefit right at the top. We didn't tout the features of Crystal Bridges alone; we identified a consumer problem and explained how the organization can help solve that problem.
When Santa Fe Opera was planning content for a paid campaign in support of their subscription packages, they knew that simply messaging the features of their subscription offerings wouldn't connect with their audience and build loyalty, so we worked together to craft messaging that highlighted the benefits of being a subscriber.
Our post copy positioned their packages as a way to fight FOMO. Don't regret missing the season - subscribe today!

Highlight your mission to build loyalty
Our final strategy is all about what matters most to your loyal audiences: your mission. In a recent article from Know Your Own Bone, researcher Colleen Dilenschneider shared data on the crucial role your mission plays in sustained loyalty.
"Members and subscribers whose primary membership benefits are supporting and positively impacting the mission indicate as most likely to make additional donations."
So what does that mean? It's telling us that those members who are with us because of the positive impact we have on the constituencies we serve are more likely to support that mission through additional donations.
Beyond that, this same article found that over 60% of these same members state they are likely to review their memberships in the next year. That's much higher than those that list "priority access" or "free access" as their primary member benefit.
But how do you share your mission with your audience in a dynamic way? This past year, American Ballet Theatre (ABT) ran a mission-focused campaign to connect with their audience outside of their touring season. In a series of videos, ABT highlighted the impact of their mission on the lives of dancers in their company.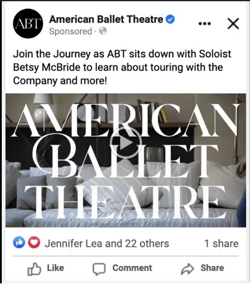 This content ran to new audiences, as well as deeply engaged audiences. When paired with our campaign targeting, these videos worked to keep the mission of the organization top of mind in a quieter period.
When it came time to message end of year giving, this key audience had been continuously engaged and reminded of the important mission of ABT.
This content was first presented in February 2023 as part of The Future of Patron Loyalty, a panel event hosted by Spektrix. View the full recording and slides below.
Jane Whitty is a Senior Consultant at Capacity Interactive.
To learn more about how Capacity Interactive can help you leverage the strategies discussed here (among others) please visit their website or follow their news on Facebook, Instagram, YouTube and LinkedIn.