It seemed the world was ready for a large, in person event in Orlando, Florida in 2022, even if the SIMS-style virtual International Ticketing Association Conference (INTIX) of 2021 was novel and fun at the time. I was excited to not only attend my first major event since joining Spektrix, but looking forward to meeting team members whom I've only met via video.
Then came Omicron. The Spektrix team closely monitored the situation and, like many of our industry colleagues, were forced to make the tough decision to not send the whole team. I was joined in Florida by our Senior Account Executive, Karen Elizondo, as well as our New York based Sector Strategy and Community Manager, Bethany Nothstein, and Samantha Bagwell, Global Fundraising Lead. In addition to the usual demos and networking, Bethany and Samantha also presented a stellar session on donor engagement as a part of the INTIX Inspiration Stage.
The crowd may have been smaller than at past conferences, but the energy level was high and people were ready to connect with long-time colleagues and to finally get in-person demonstrations and conversations. I was able to attend several sessions, including one on email marketing with our friends at Activity Stream and an important session on mental health and suicide prevention in the entertainment industry led by Behind the Scenes and IATSE. We were also happy to see participation from Spektrix clients, with Hatti Simpson, Ticketing & Digital Manager at Woolwich Works in London, and Anwar Nasir, Executive Director at Louisiana Philharmonic in New Orleans, both lending their expertise to conference programming.
Anwar participated in a town hall style general session titled "Bigger Than Burnout: Sparking Joy, Rekindling Passion and Rebuilding the Industry." This was an honest and inspiring conversation amongst arts and entertainment industry leaders moderated by Crystal Brewe, Senior Vice President, Strategic Marketing & Communications for Kimmel Cultural Campus in Philadelphia.
I'm an intentional joy seeker so was eager to hear from this panel of folx about their experiences. What emerged, though, was a master course in daring, empathetic leadership that I wanted to share.
Five Leadership Lessons from INTIX 2022 for a Changing Industry
Don't let the inability to do a huge thing stop you from doing anything
We've all been in meetings and retreats where there are pie in the sky aspirations shared. These kinds of goals are great to have but oftentimes leave us feeling defeated or able to move forward because there isn't anything actionable. Anwar Nasir reminded us that "innovation isn't always a massive shift." Maybe you'd love to give your staff raises but you lost a grant this year. Can you give them an extra day or two of vacation instead? Maybe you lost funding for a community program which leads to canceling a lengthy residency. You are able to maintain that relationship by renting a bus to bring nursing home residents to your venue for a performance with a row of empty seats. Small shifts now can lead to big changes later.
Change is an opportunity
There is a reason the Association of National Advertisers named "pivot" the word of 2020, we were all doing a lot of it! The people who look at a changing sector, revenue stream, or work environment as an opportunity for growth often see more results. "Embracing loving change will help you plant roots," was advice from Marla Ostroff whose decades long career at Ticketmaster now finds her as Managing Director for North America. Words to live by. As I talk with friends and colleagues the world over, the ones who I see thriving today are the ones who breathe into change as a lifestyle choice.
Take Time Off
There, I said it. And pre-pandemic this seemed like a very foreign concept to many American workers. Exhaustion as a status symbol will not get us far in the new world we find ourselves in where leaders are learning the importance of time away to recharge, for themselves and their teams. Laura Matalon, Chief Marketing Officer for Hamilton the Musical, seemed shocked to admit that she went on vacation and didn't even bring her computer! She reminded us "the world will not stop if you take care of you." Study after study has found that people are happier and more productive at work when they take time off to recharge. Still, in 2015 41 percent of Americans said they didn't take a single vacation day. And if they did, they worked while on vacation! As leaders, it's our responsibility to model this for our teams. If leaders are available by email or phone while on a family road trip it signals to their staff this is the expectation.
Practice Gratitude
Yes, this emerged as a leadership muscle, one that has to be strengthened and flexed. While there may never be a time when you've opened every email in your inbox or a day that not a single person says something that got your goat, there is always something to be grateful for. This came up with every panelist. It doesn't have to be a big thing, Anthony Esposito, Vice President of Ticketing Operations for the Atlanta Braves, says the thing he was most grateful for during lockdown was his front porch swing. It might be as simple as a cold soda out of the refrigerator or a colleague who always laughs at your bad jokes. You can even take a cue from Marla and write down one good thing that happened that day, even if "making a grilled cheese" is the only thing you can come up with.
Center and Share Humanity
Every one of the people on this stage talked about the experience of being human. Qiava Martinez, Vice President, Premium Service & Guest Experience for the Las Vegas Raiders NFL team, talked about how important it was for her to model to young black girls that they can have a career in professional sports by always being "a moving force for action." (She's even written an to-be-released children's book about it.) Anwar Nasir recognized the role of the arts in building community because "people come to us for joy." At Spektrix, we couldn't agree more. Core to our mission at Spektrix is the statement "We believe that artistic, cultural and entertainment experiences are essential to a high quality of life for individuals and thriving communities."
While it is great to see thriving teams and families, part of centering humanity is recognizing the struggle. Recent years have seen more professional athletes speak publicly about their mental health, and Anthony spoke openly about his own mental health, saying that being authentic about his experiences makes him a more empathetic leader. Marla Ostroff talked at length about the importance of nurturing connections between and with her team, including the folx who were furloughed in 2020.
A New Generation of People First Leadership
I saw a different brand of leadership highlighted at INTIX, leadership that puts people first. It would be a mistake to push to the other side of a global pandemic that we've not seen in our lifetimes without acknowledging the changing needs of our audiences, our clients, and our teams. These five leaders also spoke to an authenticity that was starting to show up at work that they may not have felt empowered to bring to their roles before.
We have been through a lot in the last two years, and though some of us may have felt like we did it alone, we've experienced a shared global trauma. We are craving connection and care. While our sector is dealing with its own challenges of the Great Resignation, Crystal reminded us that people outside of our sector left previous careers and want to be a part of what we're doing, creating spaces for collective joy. This INTIX first-timer looks forward to seeing how our shared experiences in Orlando shape the stories we tell at INTIX 2023 in Seattle.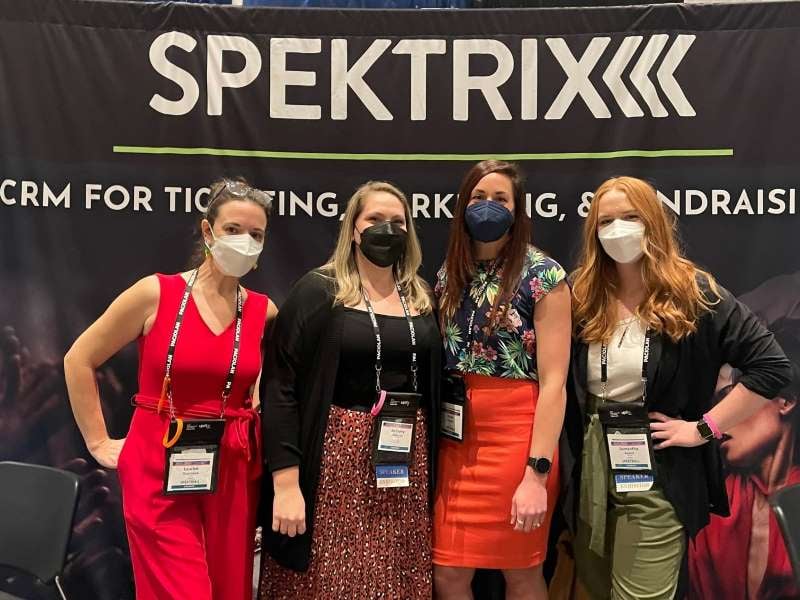 Laurice Grae-Hauck (pictured left) is a New York based Marketing & Communications Manager.
Learn more about what Spektrix is doing to lead and affect change with our Rethinking Recruitment resource.