4 min read
4 Theatre Marketing Emails You Should be Automating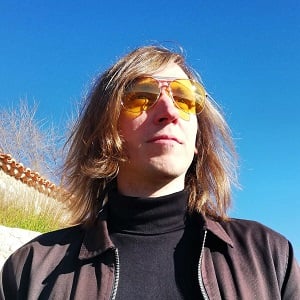 Matt Akers August 2, 2023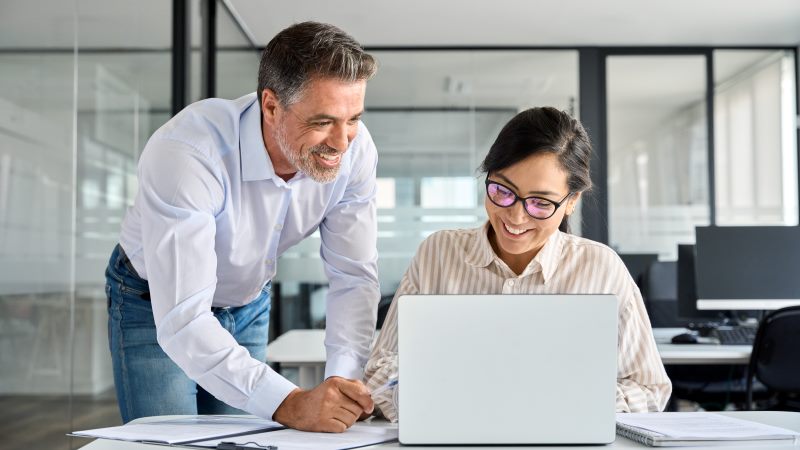 Take theatre marketing to the next level. Increase efficiency while building audiences and revenue by automating these four emails.
Make automation a key element of your theatre marketing plan
Email automation is a powerful tool: it can drastically reduce the overhead time necessary to deliver thoughtful communications, tailor information to customers' specific needs, and, if used effectively, it can ensure that the right people are getting the right information at the right time. But sometimes it can feel like the options for automation are endless. That's why we've pulled together a list of four emails you should be automating – and can start automating right now.
Wow first time audiences with welcome emails
What better way to engage a new customer than by saying hello! Whether someone is a new subscriber to your newsletter, has just made their first booking with you, or they recently became a member, ensure you're welcoming them with open arms by automating your welcome emails.

When a brand new customer opts in to hearing more from you, that means that they had a positive first interaction with your website and that you've piqued their interest. A timely welcome email can help sustain that momentum and transform it into an action with an appropriate and persuasive call to action (CTA).
The CTA of your welcome email might:
Direct your customer to make their first booking with your theatre. You can even offer them a new user discount to sweeten the deal.
Ask the new customer to make a donation.
Encourage your new user to log into their new account and update their preferences and access requirements. This has the double benefit of promoting continued engagement while giving you more information that you can use to effectively target this user with segmented communications.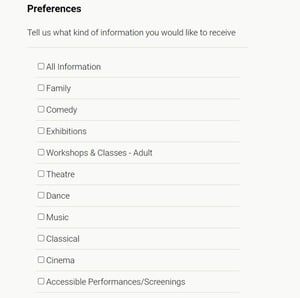 A welcome email presents an opportunity to cement that positive first impression that drew someone to subscribe to your site and serves as a chance to immediately start developing their relationship with you. Make the most of your welcome email and set a foundation to make the relationship a lengthy and fruitful one.
Use your arts marketing software to target lapsed bookers
Next, you should have automated emails to try to regain lapsed bookers, those people who have previously shown loyalty to or have been engaged with your organization.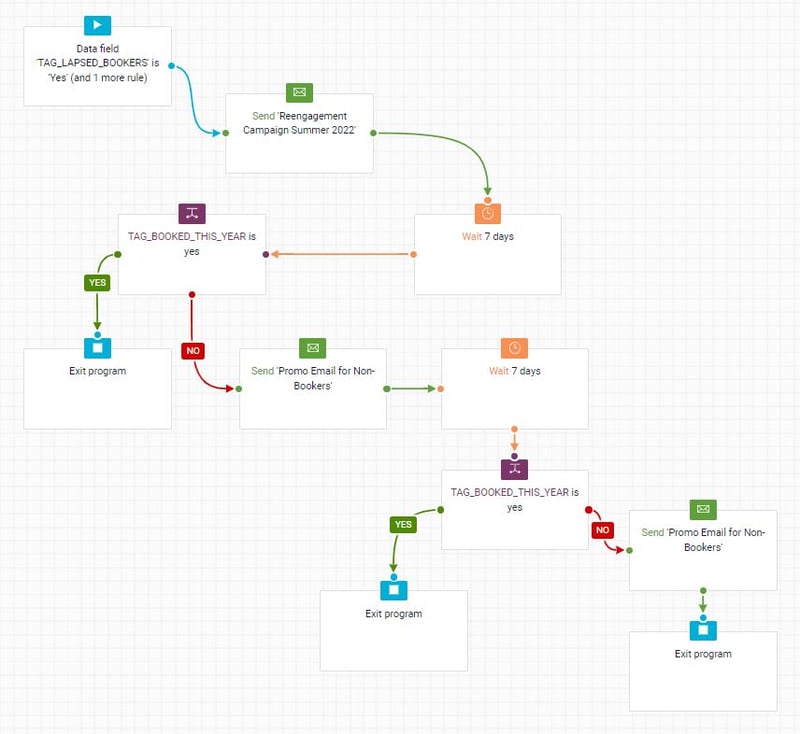 Attempting to re-engage lapsed bookers is super easy with email automation - you will just need to define what a 'lapsed booker' means to your organization. Then, you can schedule a series of re-engagement attempts to run through before a customer ultimately leaves the program as either successfully re-engaged or a lost customer. While bringing someone into the 'lost' category isn't fun, having a process to cycle out unengaged audience members is actually an extremely useful way to keep your data clean and keep communication engagement rates up.
Never forget a thank you with email automation
The third example on this list might be the most important email - the thank you.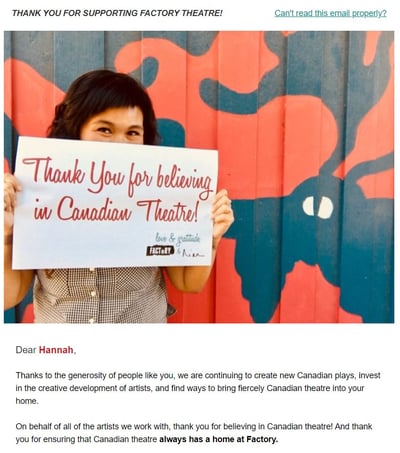 There are so many benefits to a thank you email, whether you're expressing how much you appreciate a new customer at the beginning of your relationship, or you're expressing gratitude to a long-time major donor. And thank yous are such an easy win with automation.
Has someone gone out of their way to engage with you? Perhaps it was their first ever visit yesterday? Perhaps they recently donated? Sending a quick thank you message to someone is a great way to swiftly acknowledge their support and serves as an opportunity for you to provide more information on what their purchase means to your organization.
Deliver key information with pre- and post-event emails
And, finally, pre- and post-event emails are incredibly useful opportunities to touch base with your audience, and a great way of automatically delivering important pieces of information to your customers before or after they attend.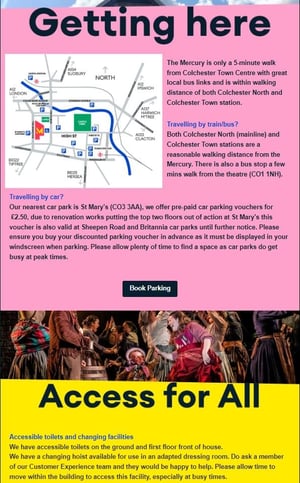 Your CRM should be equipped with tools that allow you to automatically pull through show-specific information such as event name, time and date to these emails, which means you can ensure your audiences know everything they need to know in advance of every performance. Ask yourself: what's going to be relevant to your customers? What will enhance their visit?
Use your pre-show email to remind customers of vital information in the lead up to an event, such as:
Venue details
Access and parking information
Guidance on what to do if they've lost their tickets
Opportunities to pre-purchase food and beverages
You might want to consider creating a generic pre-show email that covers all of the basic information that is relevant to the majority of your customers and supplement that with dynamic content that caters to a customer's particular needs. These needs might be guidance related to their access requirements or extra information for first-time visitors.

For post-event emails, you can also use dynamic content in multiple ways. You could thank a customer for their recent visit or use this email as an opportunity to collect customer sentiment and feedback.

Post-event emails are also a great tool to encourage reattendance. By using dynamic content, you can advertise similar performances or provide limited time offers to incentivize future bookings. Make the most of the impactful experience your audience member just had at your organization by striking while the iron is hot.

With an integrated CRM and email provider, your post-show email should be able to automatically pull through event and customer details, and use dynamic content to add variations to your CTA.
Takeaways
Define your goals
What are your objectives and how can email automation help you to achieve them? Identify who you want to target and map out your strategy.
Test and refine
Automation is a bit like turning on autopilot for your emails, but that doesn't mean you should just leave it running in the background forever without checking in once in a while. Make sure you schedule periodic points to check on your automated campaign and review how it's been going. Is it having the desired impact? Is it still relevant to your goals? Adjust, tweak, refine and repeat as needed.
Make email automation work for you
Don't be afraid to embrace email automation in your theatre marketing plan. Ask yourself: What processes can I automate? What doesn't have to be done manually? By giving as much of your work as possible to the robots, you'll not only save time, but you will increase efficiencies and maximize engagement with your customers.

---

Matt Akers (he/him) is Sector Development Manager at Spektrix