4 min read
Three Tips for Successful Cross-Selling Into Your Arts Organisation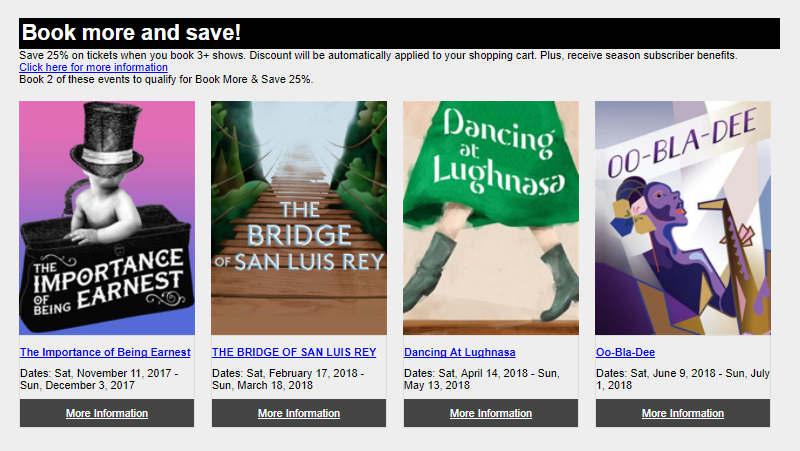 When it comes to maximising revenue for your arts organisation, cross-selling matters. Developing new customers can be costly, so increasing basket size and encouraging ticketbuyers to reattend is important for keeping your bottom line healthy. Customer churn, or the percentage of customers who come one year but not the next, presents a challenge for arts organisations. In our recent Benchmark Report, we found that 70% of customers who attended performances in 2014 did not return in 2015. The key to solving this problem and maximise your marketing efforts is to use all the tools and data at your disposal to identify and develop cross-selling opportunities to improve customer experience and reattendance across your customer base.
Why reattendance matters
Customers who attend multiple events or reattend, are by definition more engaged and less likely to churn. In addition, if your single ticket marketing costs stay the same but a portion of those audience members buy an additional ticket, then the marketing cost per ticket has just decreased.
As customers reattend you're likely to learn more about their interests and purchasing habits allowing for better targeting and future cross-selling opportunities. That means you'll spend less to get them to buy a ticket in the future. Best-case scenario, reattenders not only make marketing budgets more efficient in the current year but they're also likely to cost less to market to in subsequent years.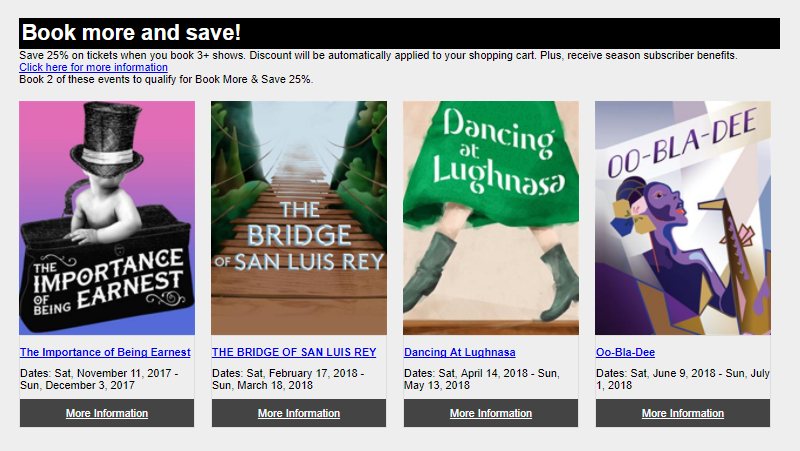 Example of online cross-selling at Two River Theater.
1. Offer Multi-Buy Cross-Selling

Multi-buy cross-selling at Chichester Festival Theatre.
So how do we get some of those 70% of one-time visitors to reattend? First, we need to make sure they know what else is playing and second, we need to set a price at which they feel that they're getting value for the risk of attending an additional event they might not know as well. Enter the multi-buy cross-sell.
A multi-buy is a type of discount in which customers who buy tickets to multiple events at once are offered a discount on their tickets. It's a form of bundling where customers themselves decide which shows to group together. A customer might not want to buy tickets to that second show on its own, but if it were priced lower they might take advantage of the opportunity.
But the multi-buy alone isn't enough. We also need to find ways to alert our customers about the other shows playing in a way that makes it easy to make the purchase decision. For this challenge, we need to cross-sell. Cross-selling is quite simply the act of selling an additional, similar product to the same customer.
A quintessential example of cross-selling is the online retail king Amazon, which attributes 35% of its revenues to this marketing strategy. Think about it. If you go to buy a copy of 'A Midsummer Night's Dream' I'll immediately see options to purchase 'Twelfth Night' as well. It's a small ask that will hopefully be a value-add to the customer who might be interested in expanding their library.

Now that we've defined them, what impact should we expect from combining cross-selling with multi-buy discounts? In the hypothetical example below, we assume that 20% of ticket buyers convert to buying two tickets, that the multibuy offers a 20% discount on ticket prices, and that there's no change to the marketing budget.
The example shows a 15% increase in net revenue, a 17% increase in marketing efficiency (marketing expense per ticket sold), and of course, more engagement with the arts organisation. In addition, we would expect that over time that single marketing budget could come down because we'll get better and better at targeting the customers who purchase more tickets. Not bad, right?

2. Make your emails do the heavy-lifting
Even if you aren't able to create a cross-selling experience online, use the data you collect from online ticket sales to generate targeted offer emails to customers. You can do this before or after the customer has seen the show, but be sure to be as targeted as possible to avoid unsubscribes. Remember, every email you send should offer value to the recipient.
Let's take cross-selling a dining experience as an example. Just as you share rave reviews in programming emails, think about collating and sharing offers and positive feedback about your in-venue experience in your pre-show emails.
Your early bookers might not want to commit to booking a dining package eight weeks in advance when they first-booked their ticket, but who's to say that they aren't interested in purchasing one nearer the time? Analyse your ticket sales to see who hasn't taken advantage of a dining package or drinks deal, and push the offer to them in a tailored pre-show email a week in advance. If it's a first-time attendee why not offer them a discount at the bar or share your recent menu to encourage them to sample your in-venue offering.
3. Incentivise cross-selling online
The good news for arts organisations is that more and more customers are purchasing tickets online which means it's a fantastic opportunity to optimise your online offering to show bookers that your venue has much more to offer than just tickets.
Amazon's multibuy cross-selling tool doesn't look particularly nice, but then again they're the market leader in online retail so it doesn't need to. For arts organisations, we face competition at all turns and should invest in making sure that the online user experience is easy and even delightful. We take great care of our audiences in our venues, we should also take care of them in our digital space.
From ice-cream to show programmes, think about how you cross-sell these items along your online purchase path to make them easily available to customers. If you'd like to see a higher uptake of these items online, why not try having online-specific discounts to encourage customers?
We love how Nuffield Theatres Southampton do this by offering a small discount on pantomime programmes to online bookers. Managing stock and effectively cross-selling to all customers is difficult during the mayhem of a busy panto season, so by cross-selling in this way they're ensuring that they're boosting advanced ancillary spend and can be more operationally efficient on show night.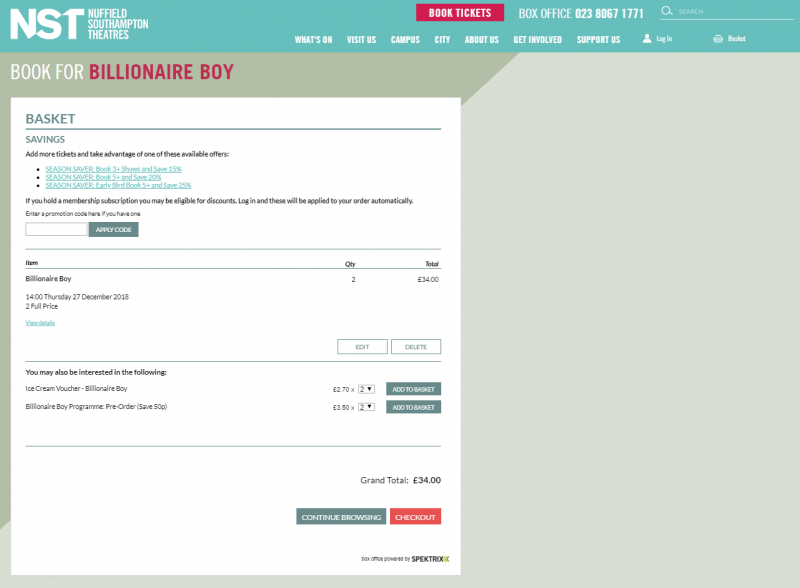 Don't forget! You don't have to cross-sell everything...
Take the time to think about what shows, films or concerts in your current season will pair well with others. Amazon's cross-selling engine works because they have taken care to think about what will cross-sell well. They may use complex machine learning techniques to do so, but then again they are selling hundreds of millions of products and we aren't.
More insights and best practice ideas from Spektrix
Allegra Markson is Head of Business Development at Spektrix