The importance of individual philanthropy in the arts is more critical now than ever to organizations' bottom lines. But individual giving itself is in flux: While total year-over-year contributions are trending up, the number of donors is in decline.
In the midst of all of this, fundraisers need to find new ways to draw more donations, but outdated or disparate tools can make it challenging to access information on their prospects' and donors' full scope of behavior and communicate with them effectively. Still, taking steps to share information between departments, leverage the tools available to align on goals and target donor communications can help fundraising departments increase return on their individual giving efforts.
Here are four strategies for how arts fundraising can address these challenges and drive revenue from donations.
1. Embrace a moves management mindset
Many fundraisers use moves management, the widely-embraced methodology for cultivating patrons through the different giving stages prospects to donors, to guide their fundraising strategies. Every organization approaches this framework a bit differently, but the basic components include researching potential contributors, cultivating them into a mindset where they are open to donating, making that donation ask, then confirming the donation and thanking the patron for their support. While fundraisers tend to understand how this framework informs their overall goals, there is ample opportunity to hone how they use it in their day-to-day workflow.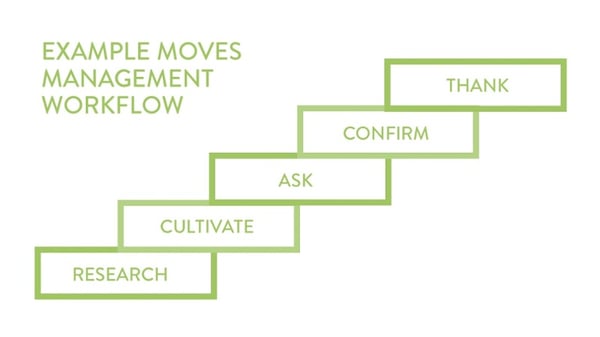 To convert ticket buyers into donors, fundraising teams must develop criteria to identify prospective donors, segment prospects into lists, and develop personalized communications to nurture them through the stages of giving. Make sure this strategy is fully documented in the team's software by tracking each prospect's giving stage as well as each touchpoint the team has had with them. This way, everyone can consistently record the progress of the relationships they are responsible for, understand how the rest of the team has interacted with each patron and pick up a relationship where it left off even if a team member leaves the organization.
This will also allow fundraisers to accurately measure what approaches work and do not work. Using data to inform strategy changes will help maximize their campaigns' results. It will also help fundraisers predict outcomes and allocate resources effectively.
2. Segment fundraising communications based on patron behavior data
According to a 2018 study of 400 arts organizations, open rates on segmented emails outperform unsegmented emails by 56%. To create personalized communications that bring in new donors and forward existing donor relationships, fundraisers should segment patrons into groups based on their habits and interests.
For a complete understanding of their patrons' behavior, fundraisers should look at their entire history with the organization: Patrons' transaction history, interactions with communications (both marketing and fundraising) and in-person touchpoints with the fundraising team are all key for planning how to communicate with them. That said, having all of that information in one place can be challenging when fundraisers track their patron data separately from the rest of the organization. Fundraisers should work across the ticketing and marketing departments to consolidate their patrons' history. Then, they can work to create segmented groups of patrons to target their donor communications.
Segment patrons based on:
How they spend money at the box office
How they responded to previous fundraising campaigns.
How often they

book tickets, what kinds of shows they attend, when they donate (during the year but also when in the week all of this can inform when to send asks)
Why they donate
Understanding donor behavior and intent will help organizations develop their messaging targeting their patrons' interests and focus on what is truly important to them when they give, making them more likely to do so.
3. Build targeted fundraising campaigns
Once they have created a segmentation plan, fundraisers can focus on creating targeted messaging. First and foremost, fundraising teams should sync to make sure they're clear on their goals so they can be equally clear to each group of patrons when making asks.
Their messaging should explain why the organization needs donations, and make that clear at every touchpoint from paper mail to online. When programming donation asks on their website, for example, fundraisers should hone every written cue to speak specifically to what the donation would be accomplishing. "Help a child see a matinee" is more convincing than "Donate to our education fund." Transparency is key; letting patrons know where their money is going will make them more empowered to give it.
Fundraisers know that increasing donation rates even by small increments can make a huge difference in meeting their targets. Communicating that value is equally important to connecting with donors. Harness the organization's channels over mailings, the website and in-person asking for donations at the box office to reinforce no matter what level they donate at, every gift makes a difference for the organization.
Also, take a look at what communications can be automated. Decide which donation range makes sense for sending programmed thank-you emails to free up the team's time for more personal communications elsewhere. Likewise, see if there are ways to label high-priority prospects' accounts to remind the staff when to reach out, ensuring every donation opportunity is looked after.
4. Implement add-on donations
Fundraisers can combine their moves management, segmentation and campaign efforts by using targeted add-on donations, or asks that automatically prompt patrons to add a few dollars to their ticket purchase. Implementing a donations web component has shown to help organizations achieve a 30 percent conversion rate, compared to an average of 12 percent in person or by phone, according to a recent report.
When setting up add-on donations, work to customize them based on the value and types of items patrons are purchasing. The more each ask fits the patron's purchase, the more likely they will be to add the suggested amount.
Segmentation can come in handy there too: Once patrons are logged in to book, suggest donation asks based on their buying history: e.g., if they're frequent bookers, using messaging that thanks them for their continued attendance and suggests a deeper level of support. It's equally important to consider who not to ask here: If possible, program the system to exclude major donors, board members, and people who are slotted solely for personal communications.
Implementing add-on donations has helped organizations quadruple their number of donors under $100. Beyond securing an additional income stream, add-on donations are an excellent tool for identifying new donors who can then be cultivated into high-level supporters.
By reinforcing moves management, building segmented communications and targeted campaigns, organizations can more effectively leverage donor relationships at every stage of giving and increase revenue.
For a data-driven look at how organizations are using online basket donations to increase giving rates, download Chapter 2 of the 2019 Spektrix Insights Report: How to Increase Donations from Individual Contributions


Our sources:
1. Ware, Andy. "Fewer Americans are giving money to charity but total donations are at record levels anyway." Lilly Family School of Philanthropy, IUPUI. July 12, 2018. https://blog.philanthropy.iupui.edu/2018/07/12/fewer-americans-are-giving-money-to-charity-but-total-donations-are-at-record-levels-anyway/
More insights and best practice ideas from Spektrix
Hailey Colwell is a former Marketing Manager at Spektrix