3 min read
Our commitment to your recruitment experience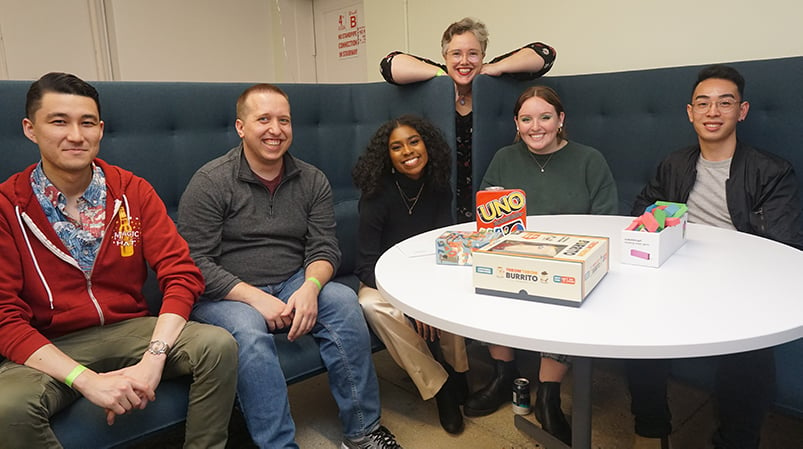 We want to encourage the widest possible range of people to apply for jobs at Spektrix. In our recruitment practice, we pledge to give all candidates the best possible experience from the moment they get excited by a job on offer and throughout the recruitment process.
Why is the recruitment process so important?
A Spektrix team member's journey starts the moment they first consider applying to join the team. Our team is committed to creating an environment where everyone can thrive. It's our responsibility to be inclusive, supportive and transparent right from the get go.
We've committed internally to building meaningful and lasting change on diversity, equity and inclusion for our team, our business, and the cultural and technology sectors. We have designed our recruitment process to enable us to build a team whose diversity reflects that of the regions in which our offices are based. We offer equal opportunities to all applicants and it's our goal to create space for everyone to contribute their unique experiences, strengths and viewpoints.
How does this work in practice?
Below, we've summarized what to expect from our recruitment process for people who are thinking about applying (or have already applied) for a job at Spektrix.
Starting at the beginning
We are not simply looking for more of the same; we value new fresh perspectives. Our job descriptions are designed to demonstrate our openness to new ideas, new skills and experiences and a range of experiences and backgrounds. We don't believe in "the perfect fit" and we're working to stay open and curious in our expectations. However you identify and whatever background you bring with you, please apply if you see a Spektrix role that will make you excited to come into work every day.
We aim to advertise broadly and widely and tap into networks that we might not have previously used. We want you to see Spektrix as a place where you can imagine yourself working, and it is important to us to become a part of the networks you're in and the conversations you're having.
Using data to challenge ourselves
We collect candidate demographics to measure gender, age, disability, race and ethnicity, and sexuality.
Your data helps us understand whether we are reaching a diverse candidate pool, and the work we can do to improve that diversity. We use them to decide if we should hold vacancies open longer, or share more widely. All data is kept confidential throughout the process. If you're applying to Spektrix, we would like to encourage you to share as much as you feel comfortable; any detail helps us to make the process fairer to you and other candidates.
The interview process
Clear and transparent communication sits at the heart of every stage of the process. We ensure that every candidate is communicated with, and not 'left hanging' at any point.
We will work with you during the interview to ensure you're comfortable and understand what is asked of you.
We keep our interviewing panels small and, where possible, diverse, representing gender and racial diversity. This helps us create a welcoming and supportive environment.
We aim to offer feedback if you reach the interview stage.
Interviews are designed to support you to show your best, rather than to catch you out. We will make adjustments to make the interview process accessible to you - be it timing, set up or tools. Interviews are two-way, and we want to make space for you to find out if Spektrix and the role are right for you, too.
Making a decision
We make decisions on what you can add to our team and culture - not on how alike you are to others in the team.
Focusing on skills and behaviors outlined in the job description, we aim to stay objective in our assessment.
We will take positive action to recruit from under-represented groups.
We invite feedback from all candidates so that we can constantly improve and evolve.
We have taken many steps to make our recruitment a process in which candidates are supported in expressing themselves. We have ongoing conversations across the business to increase inclusion, and we know that our efforts don't stop at recruitment, so we have directed a lot of our attention to onboarding and the Spektrix team experience.
Use our resource to help your organization Rethink Recruitment
Rethinking Recruitment

The People Team are happy to help you understand more or discuss any of the above. You can reach them on peopleteam@spektrix.com