As the famous phrase goes: if you don't ask, the answer will always be no. Arts audiences have always been heavily invested - both emotionally and financially - in this beloved industry, and now is no different. As we all face the challenges posed by Covid-19, it is important for arts organizations to not only ask for support from their audiences, but to meet these audiences halfway as they do so.
Built in response to the mass cancellation of live events in the wake of Covid-19, the Spektrix Ticket Converter Tool allows arts audiences the option to return the value of cancelled tickets back to venues and performing companies in the form of donations, account credit, or future bookings. As we have disseminated this tool to both our own clients and the wider sector, we have been paying close attention to the data gathered by those using the software, including the comparative value of credit notes, rescheduled performances, donations, and refunds.
In order to make this data more accessible to the industry as a whole, we have created the Spektrix Ticket Converter Tool Data Dashboard via Tableau, which provides a snapshot of the cumulative usage of the tool so far, broken out by organization type. You can access this dashboard for live data; the snapshot here was taken on Wednesday 15 April.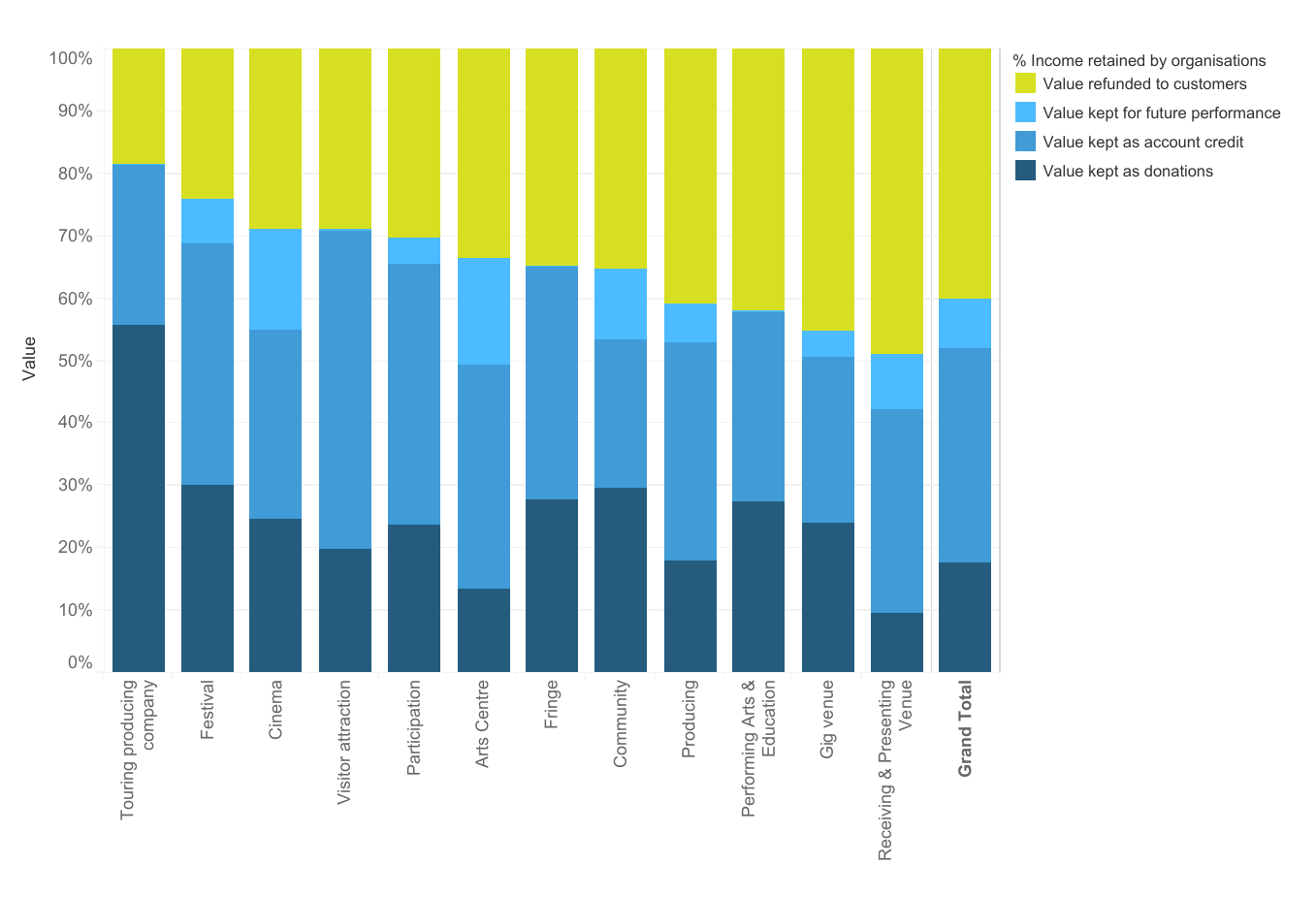 As of the same date, organizations using the tool have retained 60% of their cancelled event revenue from 121,799 audience members. To further illustrate some of the tool's results, we have highlighted a small selection of case studies below.
Two River Theater

Two River Theater in Red Bank, New Jersey have used the Ticket Converter Tool in email correspondence regarding cancelled events. After the theatre was forced to close as a result of Covid-19 in mid-March, Two River sent an email correspondence to all of their ticket-holding patrons on March 19, giving them the option to turn their tickets into a donation, credit, or refund. This was then followed up with a reminder on March 25; it was also noted in this email that any patrons who did not fill out the form would have their tickets automatically converted into account credit on March 28.
Of the patrons who received this correspondence, 51% filled out the form and Two River Theater were able to secure 83% of those responses as a donation or account credit. Two River have so far retained $37,000 in revenue that would have otherwise been refunded.
Courtney Schroeder, Two River Theater's Marketing Director, said the theater saw a 10% increase in credits and donations taken by those using the Ticket Converter Tool, in comparison to those who did not.
"By making it easy to see the total value of their tickets before selecting their preference I believe the tool helped encourage the generous behavior seen from our patrons," Schroeder said, "It also helped to cut back on box office calls during a time when the box office was on overload and trying to transition to a more safe remote set-up from home."



Theatr Clwyd

Theatr Clwyd, Wales' leading producing theatre, closed its doors on March 17th in response to UK government announcements.
Executive Director Liam Evans-Ford and Artistic Director Tamara Harvey immediately published a video on their social media channels explaining their decision, its impact on audiences and their plans to continue working with artists and communities during the closure.
Within three days of managing cancellations via the Ticket Converter, 71.18% of Theatr Clwyd's audiences had chosen to credit their account or donate (that figure is now 66.99%), keeping vital funds in the building and helping the organization to support their freelance staff members, including those working on postponed or cancelled performances. By incorporating the same powerful message alongside a public- facing digital engagement scheme (Theatr Clwyd Together) on their new website (designed by Supercool), using custom donations, web components and the latest program changes on their website, even more audience members have been encouraged to support the venue.



Boulevard Theatre
Boulevard Theatre opened in London's West End in autumn 2019. The flexibility of the Ticket Converter meant that Boulevard could invite audiences to accept a refund as a credit note; as a result, more than 50% of the value of cancelled tickets was retained by the organization to be redeemed against future events or rescheduled performances.
Stephanie Prior, Box Office Manager at Boulevard Theatre, explained:
"The Ticket Converter was a big help in our refund process. We sent this out to all customers that had tickets booked over three different productions via our mailing list with dotdigital. It took us a little while to get it set up but once we got the hang of it, it was easy to use. We got a huge response in the first couple of days – much higher response rate than when we sent an email asking customers to contact us via email. This was definitely down to the ease of sending a response in a couple of clicks."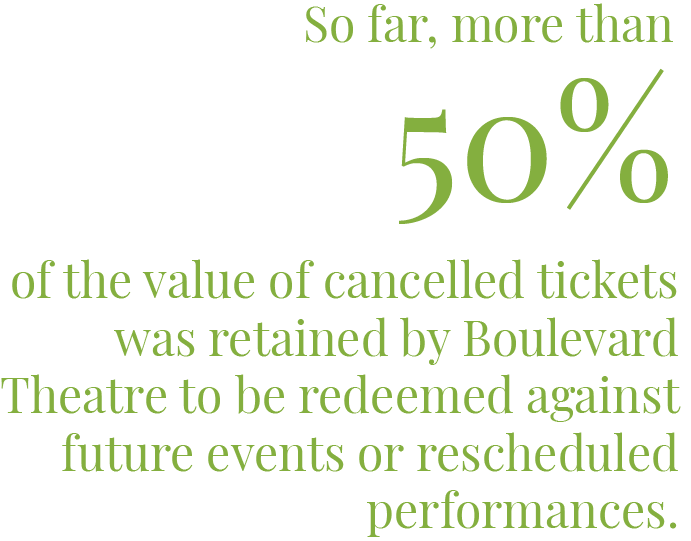 Learn more about the data for the Ticket Converter Tool
Allison Wheeland is Marketing & Communications Specialist at Spektrix