Client Success
Whoever you are and whatever you want to achieve
we're here to help you do more with Spektrix

If you're part of the Spektrix Community, we're part of your team.
That means we're here whenever you need us, at no extra charge. From a comprehensive training plan to get you started, to strategic consultancy to drive continued growth, our experience and expertise is dedicated to your success.
OUR PLACE IN YOUR TEAM
Our support, training and consultancy is collaborative and empowering, designed to help you achieve your day to day priorities and your strategic goals.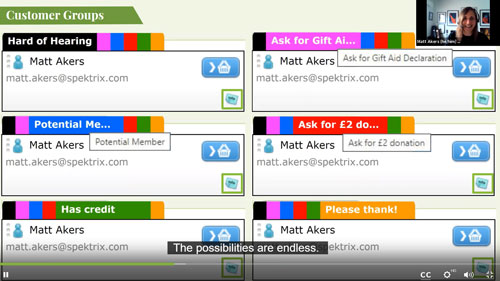 TRAINING
From regular group online training sessions to individual introductions for new members of your team, we're always happy to bring you up to speed with our new and established features. More than a simple how-to, we love to help you and your teams embrace best practice, build efficiency and understand the full potential of the system.
CONSULTANCY
Short or long-term consultancy is designed to help you build stronger, more resilient teams and organizations. We'll inspire, coach and empower you to increase revenue, boost attendance, streamline online journeys, personalize communications and promote giving. We'll even help you explore what more you could achieve by using integrated products and services to do more with Spektrix.
"Spektrix is continuously updating and keeping ahead of everything that's going on within the arts world. There were other systems that offer parts of the same functionality, but never really the whole – and they completely understand where you're coming from if you want to change something, or you want to help the customer more by doing something for them."
Craig Daniels, Deputy Box Office Manager
Anvil Arts, Basingstoke, England
Looking for help with your ticket purchase or customer account?
We work with arts organizations like theaters, music venues and museums to help them sell tickets and communicate with their audiences. We're not able to sell tickets, amend orders or update customer account details on their behalf. Contact the organization who holds your booking or data, or find out more about our role in managing your tickets and data.