4 min read
Behind the B: What's working at a B Corp like?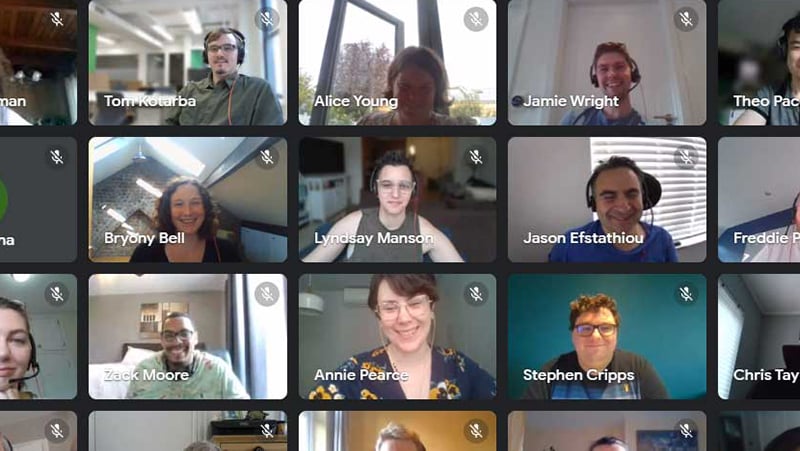 When Spektrix became a Certified B Corporation, we joined a global network of purpose-driven businesses prioritizing the needs of our communities, team members, suppliers and the environment. People are at the center of our B Corp mission, and that begins with our team. As the only ticketing provider to be certified as a B Corporation, some of our team have come to Spektrix from ticketing, marketing and fundraising roles, while others have arrived from entirely different backgrounds, making up a team of passionate, committed and creative individuals.
We're committed to building and supporting a team that reflects the diversity of the communities in which our offices are based. Beyond this, we're inviting the entire team to play a part in our ongoing B Corp journey, inviting every colleague to help identify areas where we can improve or add to existing good practice.
As part of B Corp Month, Jen Farrant, Business Intelligence Manager, and Lyndsay Manson, Project Implementation Manager are sharing some of their thoughts on the benefits of working for a B Corporation and how it has affected them over the past year.
Why does working for a B Corp matter to you?
Jen: The fact that Spektrix puts people and the environment on a par with profit, and even added a new section to its Articles of Association, making it a requirement to balance the interests of all stakeholders in its decision-making, to be a B Corp is deeply powerful. It means I am working for a company that cares about more than just itself and its financial stakeholders. This is very important to me as someone who tries to live an ethical life. Knowing my employer cares so much means that I am working in an environment which is in alignment with my own values. This allows me to work in a state of authenticity, which makes my life more fulfilling.
Lyndsay: Like most people, I spend the majority of my time that I'm not asleep working. And just like most people, I'm sure, I've worked in environments that made me feel undervalued, unwelcome, or even unsafe at times. Working at Spektrix is the first time I've felt completely comfortable sharing my identity with my coworkers, my superiors, and even my clients. That is in large part due to the fact that I know Spektrix not only cares about social good, but is knowledgeable, or open to becoming more knowledgeable, about social issues that may affect their employees.
How does working for a B Corp align with your own values?
Lyndsay: Social justice and the environment are two major areas of concern for me and a lot of folks who grew up around the same time that I did. I've seen the real world effects of global warming and I've also seen truly disheartening acts of hatred and violence with enough frequency that there is no other option but to care about these issues passionately. Working for a certified B Corp means I know that I won't be faced with moral dilemmas during the work day. I can confidently say that I trust Spektrix to put people over profit.
One of the three company values at Spektrix is Purposefully Caring. It means that we're putting people first and making it a priority to understand and support our colleagues, partners, users and the wider arts sector. This helps us to form a productive, constructive and positive community. Do you find that being reflected in the Spektrix teams?
Lyndsay: Working at Spektrix has vastly improved my mental health. I utilized our Mental Health First Aiders early on during my time at Spektrix after a particularly distressing support ticket wound up in my queue. Spektrix also offers quite a few support and resource groups that offer safe spaces for people who all share similar life experiences. Spektrix supports these groups meeting during work hours which relieves any pressure to meet up outside of your work day and shows that we are supported and encouraged to take care of ourselves.
Jen: I came out at Spektrix as Autistic over a year ago, the first employee to speak publicly about being Neurodivergent. I wrote a long email and then offered to do an "Ask Me Anything" video. I was very nervous about this, but I had a lot of support from my manager and the Senior Management Team (SMT). The Ask Me Anything went so well, I received thoughtful questions and I created a video answering all the questions. The response from the company was amazing, so many positive responses. The difference that has made to my life has been immense, being able to be myself at work means I am happy and not worrying about 'being found out'.
Do you see Spektrix giving back to our community?
Jen: The Ticket Converter Tool was wonderful. At a time when I felt utterly powerless in the face of the pandemic, Spektrix stepped up and created a tool which anyone in the sector could use, to help them retain some of their income. To be part of a company who immediately thinks of a creative and quick solution in a crisis and then makes it available to not only our clients, but any organization, was truly fantastic. It made me feel like I was part of something which could make a difference. At that moment in time that was a priceless thing for me as a human being, as well as an employee.
March 2022 marks B Corp Month. You can find out more about the inspiring work being done by B Corporations across the globe by using the hashtag #BehindTheB, as the whole community shows off all that goes on behind the scenes. Jen and Lyndsay have given you a peek into the present of our B Corp journey. Prioritizing people is central to being a B Corp and as true to our mission and the values we hold dear as it gets. But as we continue to be inspired by the positive social change happening in our team, the cultural sector and in the B Corp community, we recognize we're only at the beginning. So watch out as we're making this ever more central to our work in the years to come.