4 min read
The Value of the Support Page to Increase Online Donations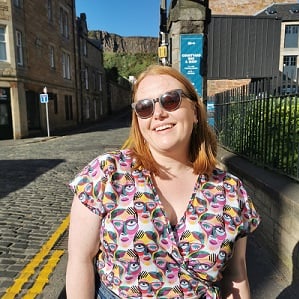 Miriam Wright 21 August, 2023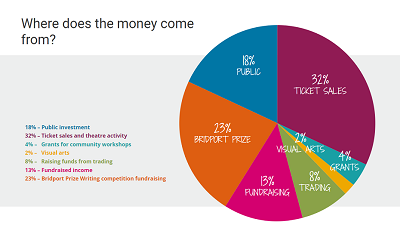 Understand the value of your website's Support Page in your fundraising initiatives, and leverage our online spaces to drive donations.
Your website is a fundraiser
Your website is often where customers first start to understand your mission. That makes the online Support page a crucial part of fundraising strategy - though of course, it's not the only place you can tell your story. In 2022, approximately 76% of donations under £500 were made online. Website development is an investment in fundraising, and an opportunity to increase online donations. That investment may include the budget you allocate to your web agency to apply changes. Equally, it can include the time, experience and resource you invest in reviewing your website, identifying areas of improvement, and planning tweaks to the online donor journey,

More often than not, people don't visit your website and go straight to the Support page. They've usually been directed there as a result of a direct ask - like a segmented email asking them to donate. Customers are either on your Support Page to give money, or they want to learn more about your organisation.

People spend an average of 54 seconds on a webpage. This is not a lot of time when you want to ask people for money!
Some key principles of an effective organisation's Support Page are:
Ease of navigation
The quicker that navigation to a checkout page can happen, the better. This means the page must be clear, and it must be simple to grasp how a donation is added to the basket.
Visually appealing
Rich visuals and images on web pages, rather than long sections of text allow you to tell your story quickly and impactfully.
Demonstrating impact of donations
Web pages that describe the impact of donations puts the donor in a starring role. They can see how their role is key to your organisation's success.
Donor choice
Donors like choice - multiple options for what their donation can support, and also how they can donate, means more donors can find what works for them.
Demonstrate your impact
Bridport Arts Centre
The Support Page on your website is where you tell your organisation's story. It should communicate your impact on your communities, and why donations are important.

Transparency on your Support Page helps build trust with website visitors.

Bridport Arts Centre in Dorset, England, has a Support Page which does this using a visual showing the makeup of income into the organisation.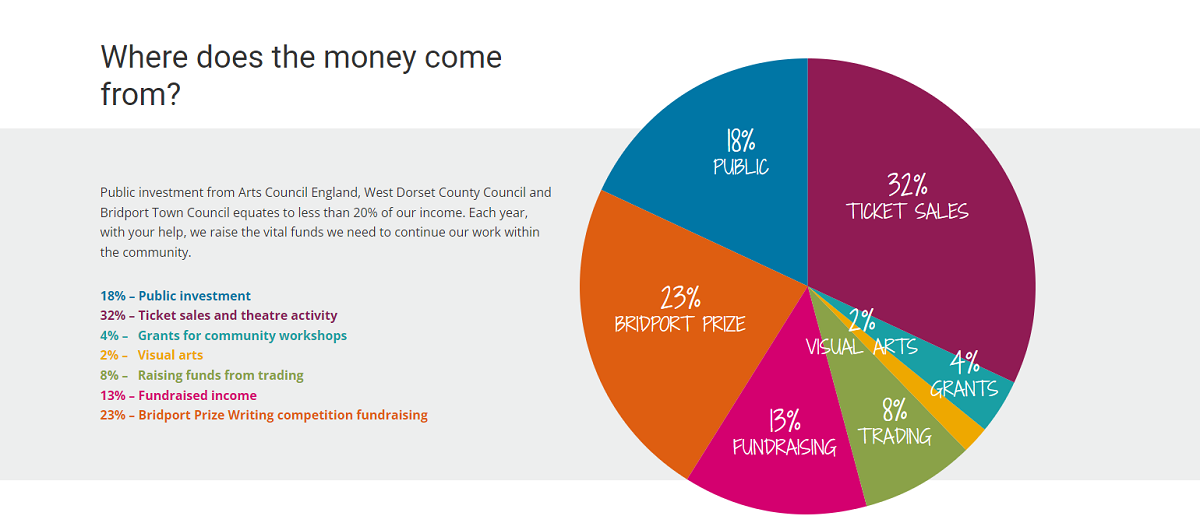 The visual aid draws the eye, and information is processed faster than reading a paragraph of text.
The pie chart communicates to website users the value of fundraised income in relation to other sources of income. There is transparency in presenting the breakdown in this way, which means donors can feel trusted, and can see how their donation fits into the overall budget.
Fundraisers should prioritise ease of navigation on the Support Page. As soon as a customer doesn't know which button to press, or how to add the donation into the basket, you risk losing the donation.

Bridport Arts Centre uses a donation web component to allow customers to donate quickly and easily from any page on the site. Web components are reusable custom elements that have been created by Spektrix. Their web developers, This is Fever, used these custom elements to match the web component to the organisation's brand and styling, as well as building interactive buttons and a slider. Web components like this are both visually appealing, and easy to navigate.

In the web component itself, each selection describes what the donation could support. Each level of support displays a range of support rather than a fixed value, however the suggested amount is directly in the middle of this range, encouraging donations above the minimum level, but maintaining flexibility.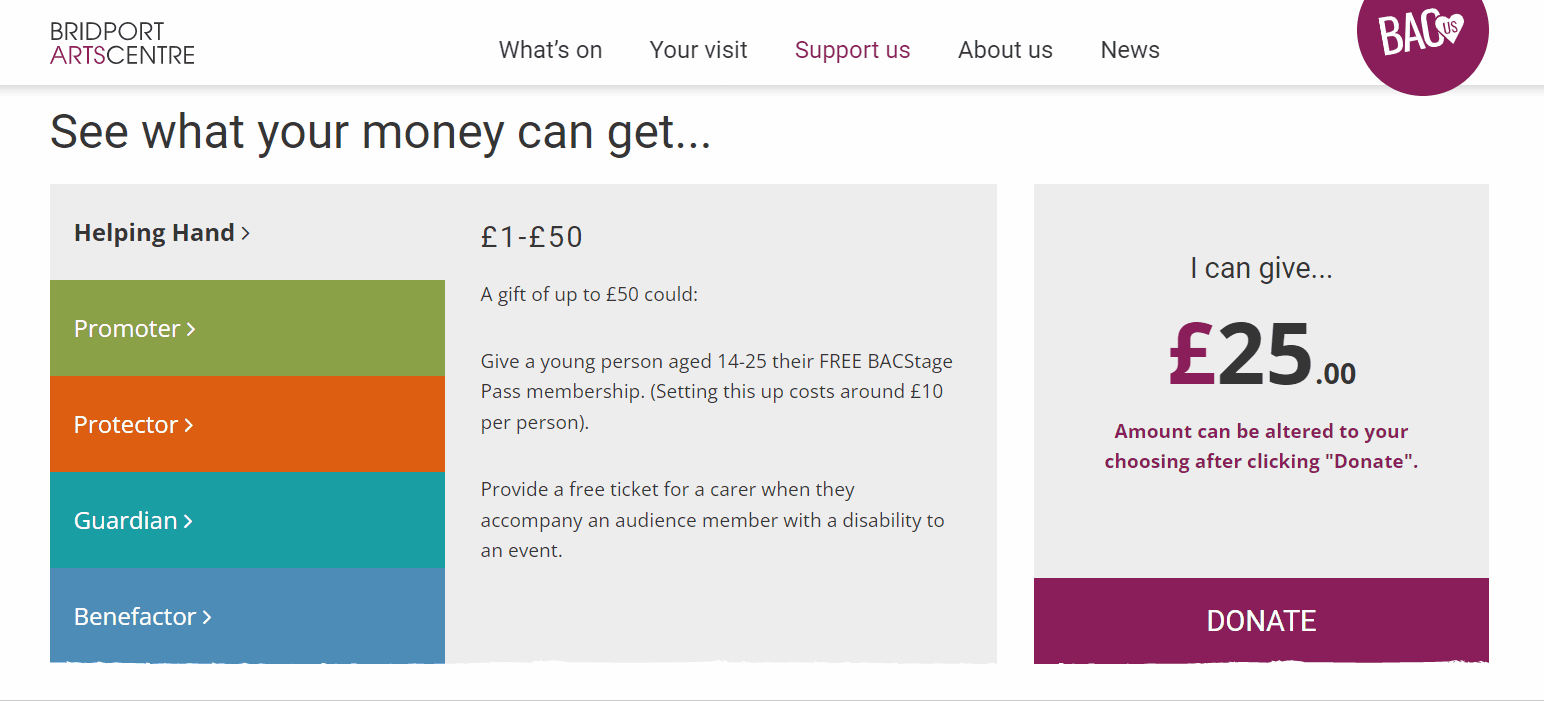 The impact of donations are outlined with specificity - specific initiatives and projects that could be funded as a result of each donation. Providing this kind of distinction and impact-led "asks" allows donors to see themselves as a key player in the work of the organisation, increasing online and in-person donations year-round.
Recurring donations
Making it easy to donate is a surefire way to encourage more donations, and recurring donations are an effective way to do just that.

Monthly recurring donations make it easier for donors who wish to support regularly but are not able to provide a lump sum per year.

For your organisation, automatic renewals reduce administrative time. Monthly donations expand giving circles, ensuring less risk and a guaranteed monthly income.
Constellation Stage & Screen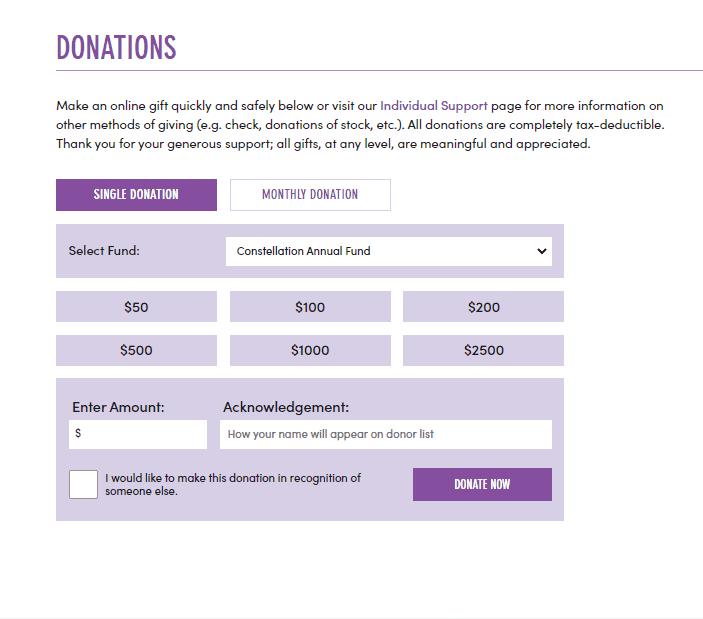 You are able to offer monthly giving on your websites in ways that are easy to navigate, show the impact of donations and look great!

One such example of this is Constellation Stage & Screen in Bloomington, Indiana, whose web developers, ExMoment Ltd, again used web components to allow donors to sign up.

This is a great example of providing donors with various options on ways to give.

There is the opportunity for donors to give single gifts, or a monthly donation, by flipping between the two options. The web component is switching between a single donation into a fund, and choosing a monthly auto-renewable membership in Spektrix.

Both options provide multiple funds allowing the donor to choose the initiative that speaks most to them. Having this much choice for both the single and monthly donation means donors can feel comfortable choosing what's right for them.
The Encore Musical Theatre Company
Another example of online regular giving sign ups is The Encore Musical Theatre Company in Dexter, Michigan. This organisation's web developers took full advantage of a Spektrix development, which was expanding the Spektrix API so that we're able to accept payments from third party providers and immediately feed that data into a Spektrix system without the need for imports. Ten4's tool DonateFlow is able to process payments using a third party, and integrates into Spektrix. There's no need to log in which makes the checkout process super speedy, and the options for support are styled alongside the rest of the website.

The expansion of the API means that web developers will be able to integrate further with Spektrix, and develop tools like DonateFlow to provide seamless donor journeys.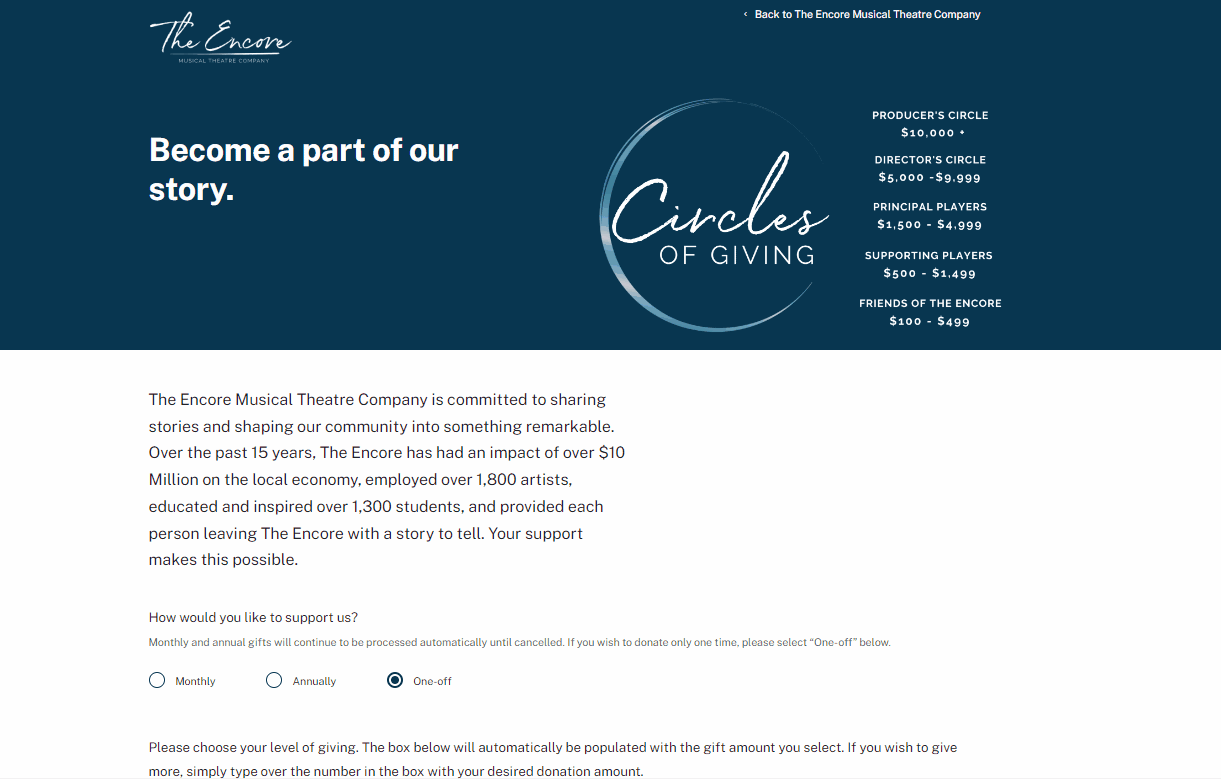 Your Support Page should be considered a part of your fundraising strategy and budget. It's not only a way for you to tell your organisation's story, but a simple and effective way for customers to donate their money. Demonstrating the impact of donations and being transparent about your charitable status means donors see themselves as a key part of the work you do. Offering multiple donation options reaches more individuals, expands your circle of donors and drives an increase in online donations.
---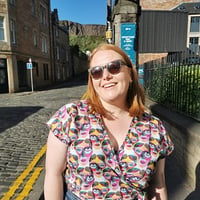 Miriam Wright (she/her) is a Support & Training Consultant: Fundraising Specialist at Spektrix