Flex Passes at the Center of a Theater Marketing Model
How Cincinnati Shakespeare Company is using flex pass features in Spektrix to test new approaches to patron loyalty

Flexibility is key to subscription sales, and newly improved flex pass features are driving efficiencies, experimentation and insights.

Cincinnati Shakespeare Company - known to its friends as Cincy Shakes - is a resident ensemble company, performing a year-round theater program in its contemporary performance space. Flex passes have been core to their work for 30 years, when most theaters were still using fixed series subscriptions.
Jeanna Vella, Director of Marketing and Data Analytics, told us how she's managed flex passes across a series of CRM and ticketing systems - and how newly released flex pass functionality in Spektrix is helping her discover new ways to build loyalty among modern audiences.
Flex pass sales and philanthropy go hand-in-hand
Flex passes enable patrons to purchase tickets upfront for multiple events across the season, and to redeem them immediately or later in the year. They're free to select a date and time right away, or to make that selection only when they've firmed up other plans and can be confident they're free to attend. Jeanna sees that flexibility as key to building loyalty among newer patrons. For them, subscriptions are most often associated with on-demand TV, and for theaters to succeed they need to emphasize the additional benefits of their subscription models.

"It's that ultimate flexibility, and trying to force a reappraisal by younger people who say, 'No, I hear subscriptions, it's not what I'm into,' to stop and say, 'Wait a second, let me think about that, could I do that, what benefits could I get.' And also trying to push the altruistic benefits of people saying, 'Well I really like this organization, so if I join as a subscriber then it's a vote of confidence in them and I want to support them.'"
As a nonprofit theater, Cincy Shakes relies on donations as well as ticket sales to support its program. By understanding the patron pipeline, Jeanna can be sure to prompt the right upsells and donations at the right time in each customer's journey.
"They come to a show, we ask them to come to a second show, then how about a season pass subscription to try out a couple more things and get more involved in our community."
That community involvement often begins with a donation, using targeted prompts in the Spektrix purchase pathway. Because flex pass holders can both buy and redeem their passes online, and emails can be personalized with special messaging for subscribers, there are multiple opportunities to help patrons understand the organization and their role within it.
"Sometimes subscribers feel they're big supporters because they're a subscriber, and they are, but the cost of the ticket is only part of it. Some of the language that we use helps them understand that while we're very grateful for their ticket purchase, it only covers so much of our costs to operate as an organization, and would they consider adding a donation or being a donor."
Those efforts to design relevant, customized prompts for every stage of the customer journey have paid off. Many of Cincy Shakes' subscribers are also regular donors, making low-level gifts as they redeem their vouchers or adding a more substantial sum on top of their annual subscription. Whatever pattern of giving they choose, Spektrix enables a frictionless checkout and automated tools to tag, segment, and thank patrons as they move from first-timers through to regulars.
Flex pass technology designed for theaters and performing arts
Cincy Shakes was one of the first Spektrix clients to adopt the new Ticket Subscriptions feature, designed to make it easier to set up, sell, and redeem flex passes online. Even before it was live, Jeanna worked closely with the Spektrix team to ensure they fully understood theaters' challenges and priorities, and to share feedback on ideas and developments along the way.

As the Ticket Subscriptions feature was developed, Spektrix remained committed to creating the best possible technology for box office teams and patrons, streamlining the experience for every user. Because Spektrix technology's designed specifically around the needs of theaters and performing arts organizations, it was possible to hone in on details, try things out, and give users the tools they needed to succeed.
"They were really receptive to my feedback. What I always want to have is a frictionless experience for the patron. It's definitely a simpler checkout process for them, and buying in multiples is way simpler, so there were some big wins on that side."
For patrons, there was very little change. They may have found things a little easier to achieve than in previous years, but there was no need to reach out with guidance; their checkout experience was largely unchanged, and they found it was an intuitive, stress-free process to buy and redeem subscriptions.

The big change came for the box office team. Previous technology had seen them spend weeks planning and programming numerous flex pass options, whereas this year's passes were set up, tested, and published in just one afternoon. Financial reconciliations were smoother, with the value of redeemed vouchers automatically assigned to the relevant event, and box office teams quickly grew confident in processing transactions and upselling premium seats.

"If people are upgrading or wanting to trade for different types of tickets, that was cleaner, because we actually had a dollar amount on the subscription. And so they could say, 'Great, if you want to sit in that premium section it's another $12,' and that was calculated for them. So it really helped streamline what they were doing and cut down on the training that they had to have."
Jeanna Vella
Director of Marketing & Data Analytics
Flex Passes in Spektrix...
The Ticket Subscriptions feature is just one of many loyalty tools in Spektrix, designed to market and sell flexible season tickets in a myriad combinations. From simple mainstage season tickets, through to more complex offers across multiple venues and price points - you have the flexibility to create a reattendance model that works for your audiences and team.
If you are already working with Spektrix, learn how to set up and sell Ticket Subscriptions.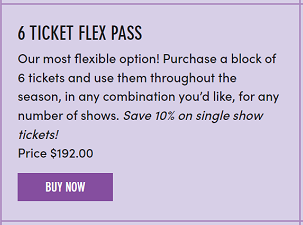 Making room for innovation
Since before the pandemic, there's been a steady decline in the number of subscribers worldwide. But for theaters like Cincy Shakes, that doesn't mean flex passes aren't still an important part of the program. They're seeing a steady and solid level of growth, despite the cost of living and other social upheavals, and Jeanna's using the time she's saved on event setup to innovate and explore what today's audiences want from theater flex passes.
"We're trying to go deeper and deeper, add more benefits to being a subscriber, and we can get more creative when we're not spending all of our brain space on building the system for it. We can get creative about ways to innovate."
Jeanna and her team have identified some clear objectives for rebuilding their audiences, and they're using the loyalty tools and data insights in Spektrix to work towards their goals. Down the line, they'll explore integrations with point of sale technology at their bar and concessions, automating discounts for subscribers or fast-tracking them with a separate line.
Recapturing lost subscribers
Targeted messaging is reminding former subscribers of what's on offer, and helping them understand how to rebuild their lapsed subscriptions.
First-time attendees
Messaging for new audiences is focused on savings and flexibility, reframing flex passes as a low entry point to loyalty.
Repeat visitors
Once patrons have attended the first time, automated messaging invites them to come again, or to consider subscribing or donating, gradually building towards increasing loyalty.
Alongside the customer pipeline, Jeanna's trying out a range of flex pass options, from premium night passes through to young people's subscriptions, and a smaller '4-pack' of shows which offers an entry point for new subscribers. The 4-pack started out as a quick test which went well, and is ready to be repeated this season - with Spektrix, she has a system that's nimble enough to let her play around with different options, discover what works, and refine her marketing strategy year on year.

"It has saved us on resourcing, staff time, and that's been a big win because we have a smaller staff, less resources, but we can still offer the same great products with less resource and time behind it. So that's a big win, especially right now."
Jeanna Vella
Director of Marketing & Data Analytics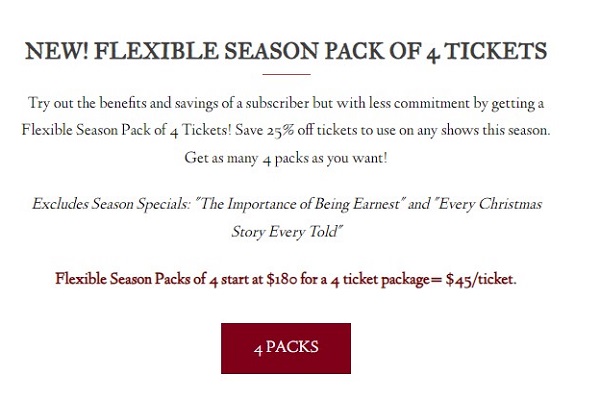 New, improved flex pass technology has given Jeanna the time and insights she needs to explore new ideas and learn what works best for her patrons. And when she's needed more, she's brought her ideas to Spektrix and found them really receptive - as a technology partner committed to shared success, they want to hear what users need and to build the best possible solution for the performing arts. There's more to discover as the sector gets back on its feet, but Cincy Shakes is in a strong position to grow revenue and loyalty through its targeted messaging and creative approach to flex pass sales and marketing.

"We're going to test out some different types of marketing ideas in the way that we sell subscriptions or season passes, and this system makes that really helpful. We can set up a new four pack and give that a try. There's room for more innovation in this system, which at this time when we're trying to rebuild subscriptions is really key."
Jeanna Vella
Director of Marketing & Data Analytics