4 min read
Loyalty, Frequency, Affinity: Future-focussed arts marketing ideas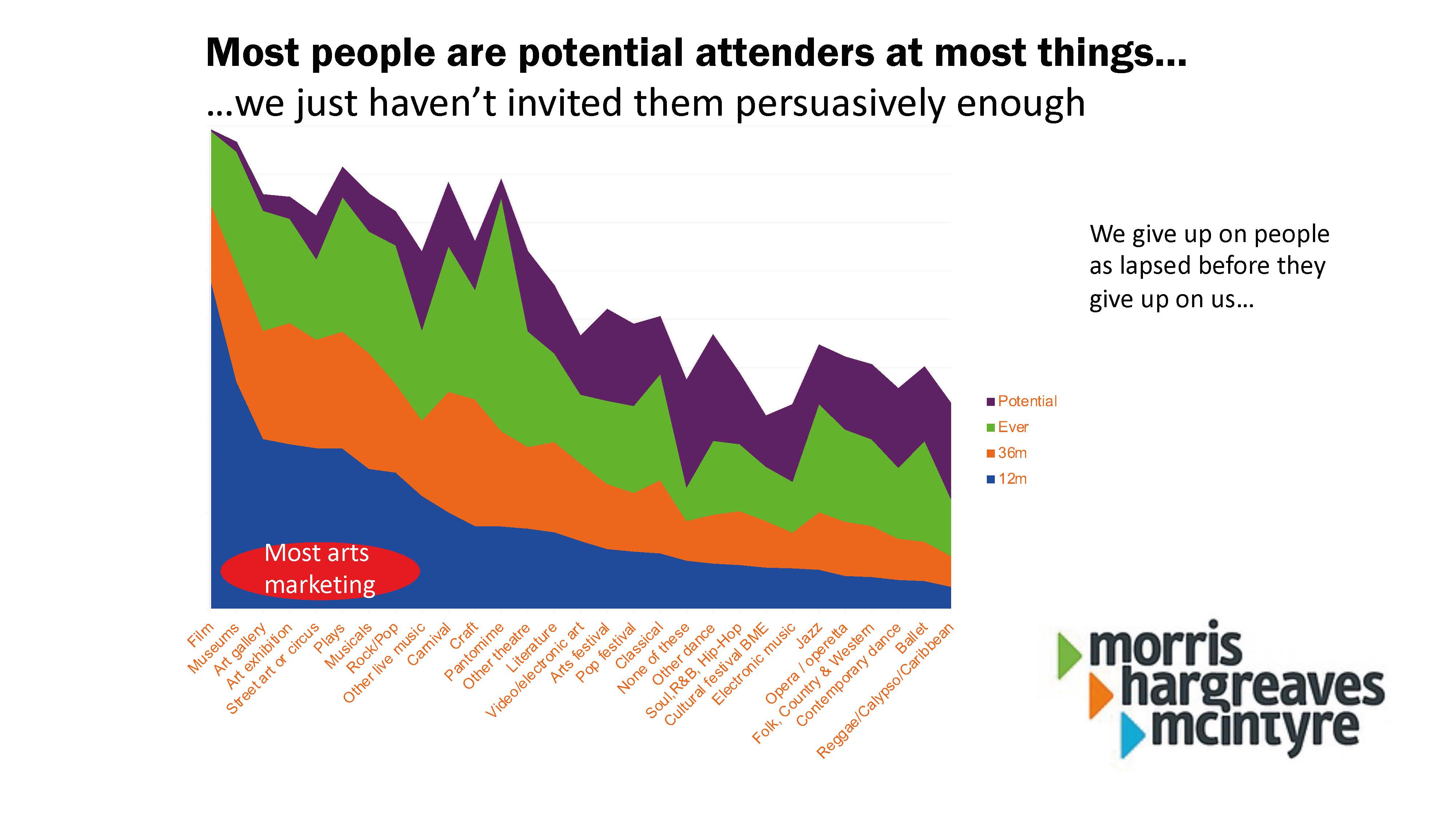 We build elaborate arts marketing plans focussed on just 20% of attendees. How can we engage the other 80%?
Andrew McIntyre, Director of arts consultancy Morris Hargreaves McIntyre, tells us why it's important to drive reengagement, as well as reattendance, in our marketing campaigns - and how to think differently about audience segmentation.

This content was first presented in February 2023 as part of The Future of Audience Loyalty, a panel event hosted by Spektrix. If you missed out, we've now published the full event online - helping you to explore what customer loyalty means for theatres, cultural venues and touring organisations in the post-pandemic world.
Who are we targeting? New ideas versus old templates
It's not uncommon to put huge amounts of effort into arts marketing campaigns, only to see single-figure response rates. If we've segmented and targeted our content, that means 95% of our hottest prospects remain ambivalent - and when it comes to ticket sales, ambivalence is the enemy of loyalty, frequency and affinity. How can we make everyone in our database more responsive?
The top 20% of live event attendees buy 80% of all tickets.
The remaining 80% account for just 20% of sales.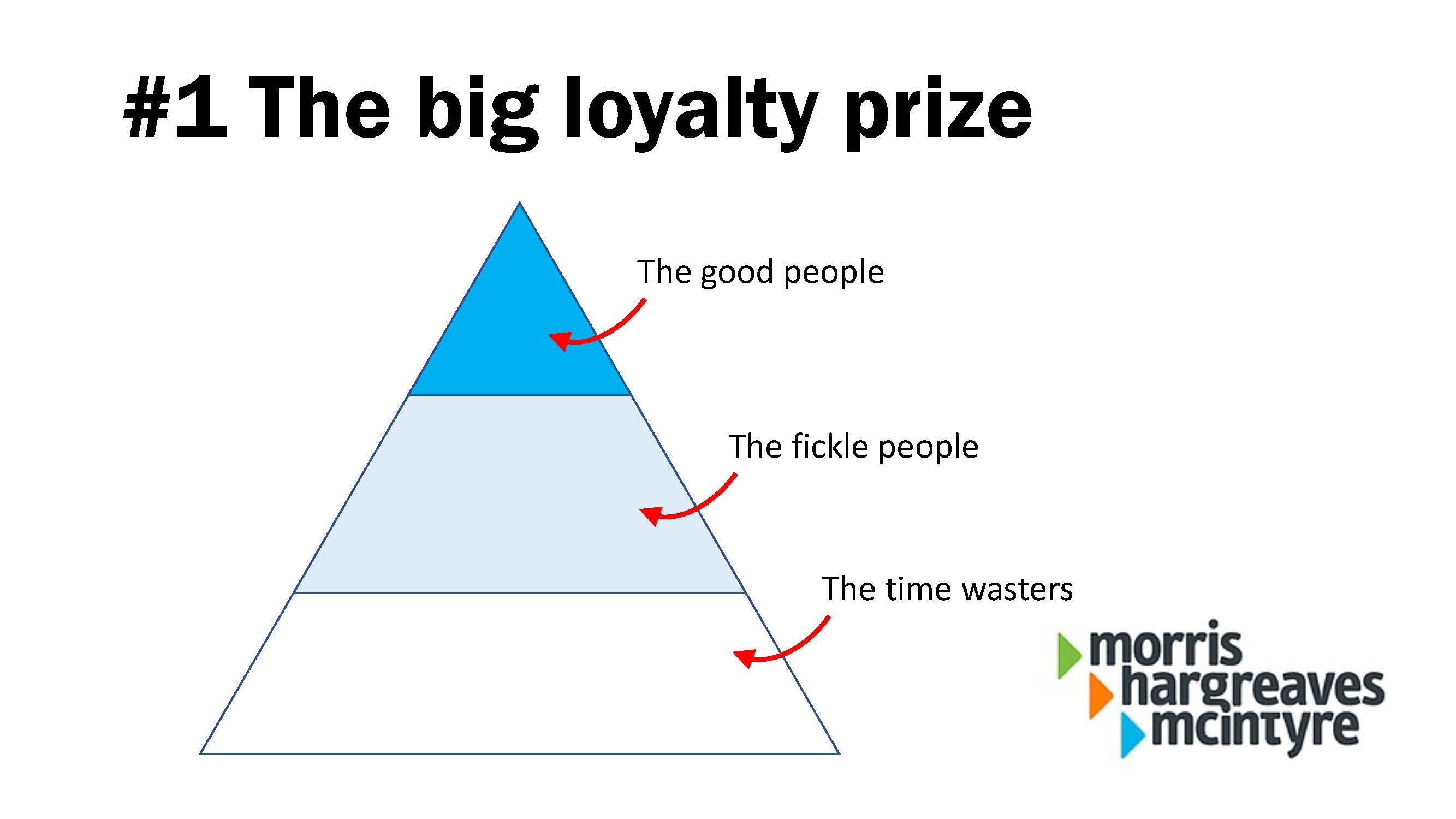 This means that the traditional, inherited worldview is to focus marketing efforts on the top of the pyramid - further driving reattendance by already-regular patrons. In this model, the vast majority of audience members are little more than time wasters, clogging up databases, reducing ROI on mailings, and generally failing to respond.

In this approach, even the single ticket buyer's failure to reattend can be seen as an enemy to successful campaigns, whereas regulars and subscribers are seen as valuable. Long-established templates for arts marketing are built around these 'good' loyalists - brochures, fixed subscriptions and memberships all assume they want and understand the links and arcs we've woven through our seasons. That's been the science and model of arts marketing for years - and we've learned to do it brilliantly. No wonder so few people account for so many ticket sales.

Yet the impact of our own success is that there's limited capacity at the top of the pyramid - how can we squeeze even more sales out of these repeat attenders? Instead, it's time to focus on the other 80% - on the bottom of the pyramid, where our science is less developed and our ideas more rooted in 30-year old rhetoric.
"Every time the single-ticket buyer doesn't buy, he strikes us a cruel blow, both financially and morally. His empty seat mocks our artists and screams its reproach to our promotional effort for its failure to entice him." Danny Newman, 1990

Breed affinity by offering something new
Here's a story. Ten years or more ago, I bought a ballet ticket for my mother. She's a big fan of ballet; me, not so much. Ever since, I've been receiving lovely letters, and more recently emails, from the same ballet company. They've made a lot of effort - they write about the choreography, the personnel, the creative vision. It's a nice letter. But the template they use hasn't changed, and it always starts, 'Dear Ballet Lover'. That's just not me.

At Morris Hargreaves McIntyre we've carried out research with people who've just received emails from performing arts organisations, inviting them to return to another event. Often they receive these invitations because they have a track record of attending that type of event - let's say theatre, and specifically Shakespeare. And if they don't buy a ticket, their top reason for not doing so is, "But I've just been to a Shakespeare - I'd quite like some standup comedy or new writing."

Genre-based segmentation like this means that we keep trying to sell people the same things, when few of us enjoy just one genre or artform. The chart below shows why we're missing out when we keep encouraging audiences to do the same things, instead of encouraging wider engagement.


Even for the most popular artforms, like film and museums, the people who've attended within the past 12 months represent only half or less than half of all potential attendees. For more niche artforms, like contemporary dance, ballet and Reggae, Calypso or Caribbean music, that dwindles to well below 25%. And generally, the other 75% aren't part of our arts marketing efforts - they've been archived, cleaned off databases, or get only our most general content because they have no track record.
Map audiences to experiences to inspire reattendance
"Once we have people paying attention, once we have people feeling we're relevant to them, once we have people buying more tickets and coming to see us more often, and making us part of their cultural lives, that then becomes habitual but it also can breed affinity. And affinity breeds a sense of connection and community and ultimately, loyalty." Andrew McIntyre, 2023
So how do we get them paying attention? Often, we don't tell people enough about too many things. Think about a typical season brochure or flyer - lots of listings, lots of pictures, very limited information. What people want to know is the 1-2 things that might be of interest - not based on what they came to last month, but based on the personal motivating factors that inspire them to buy a ticket. And often those are the things we don't understand.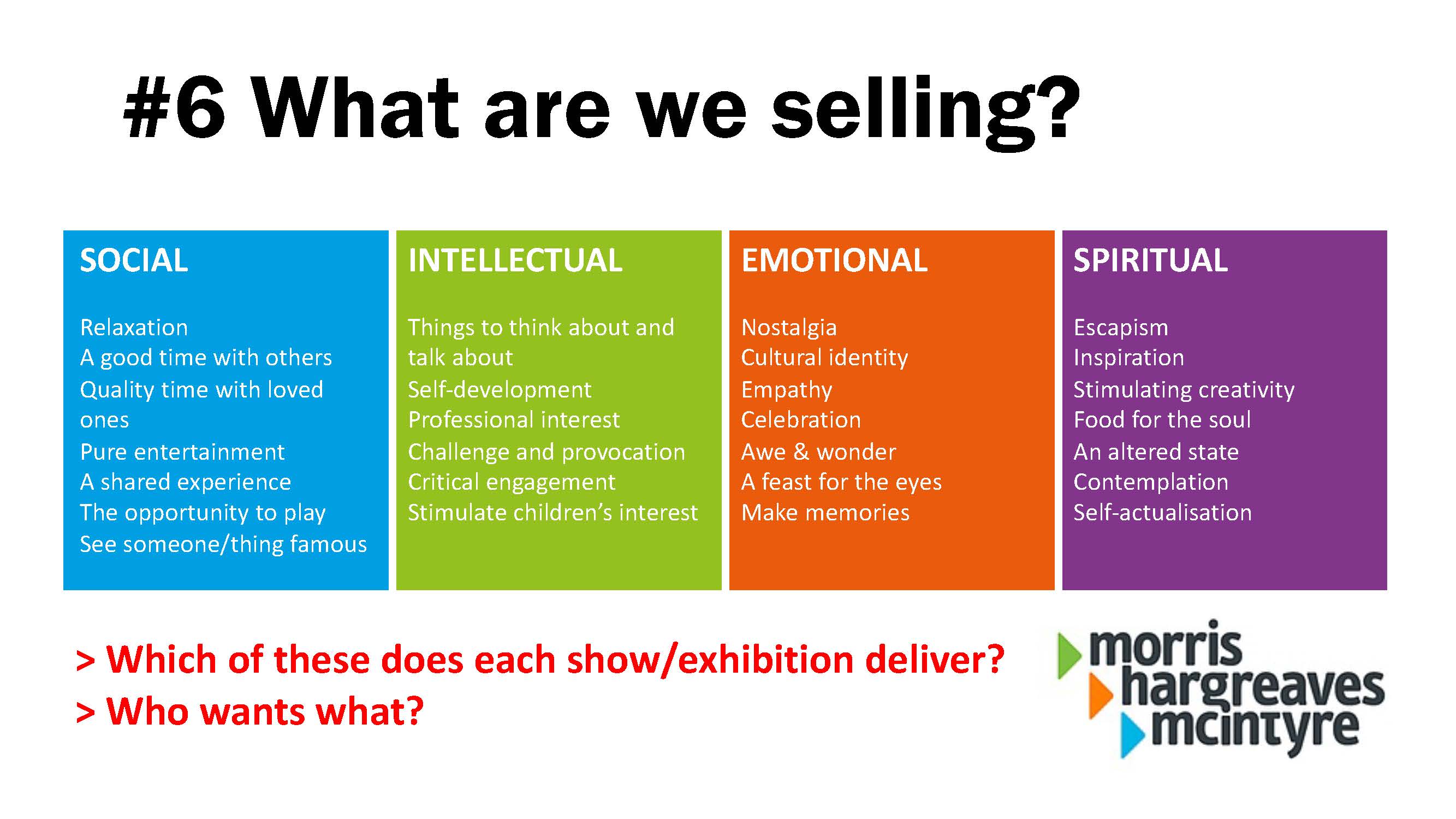 The image above shows some of the different experiences we're selling when we market the performing arts. When we're coming up with ideas to promote each event, we should think about what each of our shows or exhibitions delivers, and which of our audience members might want each one.

The first step to make that happen is to pick a segmentation system. It doesn't matter how simple a system you start with - it will always be better than not having one at all. At Morris Hargreaves McIntyre we use Culture Segments, which takes psychographic approach to segmentation - looking at the values and beliefs that drive people to choose specific experiences. Culture Segments integrates with Spektrix, allowing you to include this questionnaire in the registration or checkout flow - you can try it out and see which segment you belong to on Morris Hargreaves McIntyre's website.

Once you've segmented your audience, there are two possible approaches to mapping each segment to the most relevant information: Optimisation and Differentiation.

Optimisation means telling single segments about multiple events. More targeted than a general season brochure, it means you might tell one group about events that speak to their love of heritage and learning, and another group about events that are interactive and experience-led. Occasionally there might be crossover - like a concert performed in a medieval library.

Differentiation means presenting a single event to multiple segments in different ways. In the example above, one communication might focus on the history of the music and venue. The second might reference the experiential impact of site-specific performance.
This content was first presented in February 2023 as part of The Future of Audience Loyalty, a panel event hosted by Spektrix. View the full recording and slides below.
THE FUTURE OF AUDIENCE LOYALTY
Andrew McIntyre is the Director of Morris Hargreaves McIntyre.

Morris Hargreaves McIntyre are happy to offer an hour's free consultation to arts and cultural sector organisations - get in touch with them to arrange a conversation.