3 min read
6 Things I Learned My First Time at Capacity Interactive Boot Camp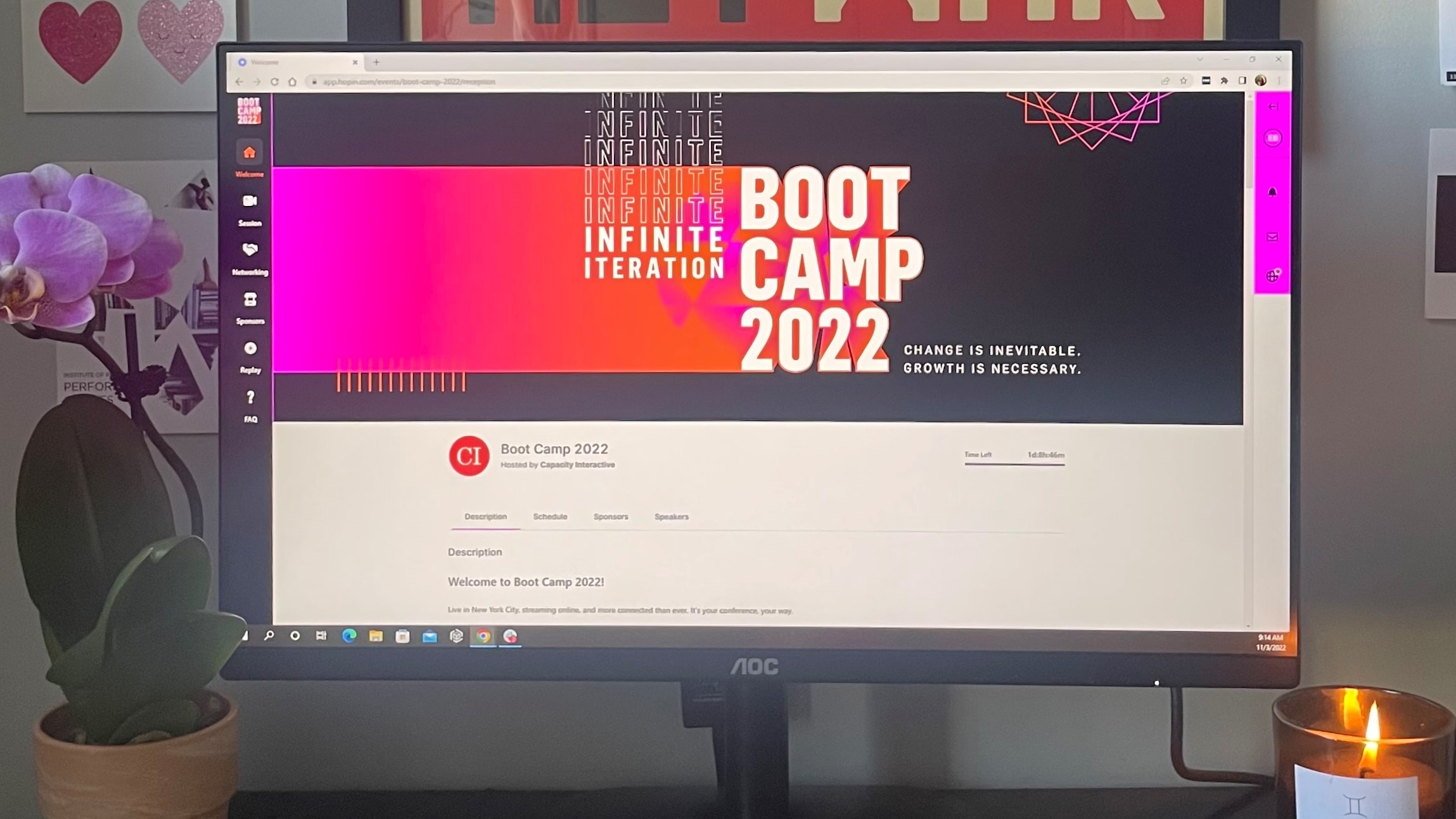 Hybrid conferences in 2022: connecting failure with success, reframing goals to support change, centering accessibility, and dog GIFs.
Emily Bacal is a member of the Spektrix Marketing & Communications Team. In her role, she supports event communications, working to build community through digital platforms.
1. Failure is part and parcel of success
During the session "A Social Content Masterclass" many creators who've achieved success by making engaging social content shared their content-creating journeys. While the speakers had great sizzle reels full of their viral TikToks and trending hashtags, they also shared that behind their very visible wins were a whole host of failures – posts that flopped, experiments with new formats that didn't work, missed trends. But what made these creators eventually achieve success was the ability to turn each failure into a learning experience. They leveraged knowledge gained from messing up to make new content that worked for their teams. Success didn't happen in spite of their failures, rather, success was made possible by the things these creators learned from their failures. This trial-and-error strategy serves as a great example of Boot Camp's core theme: infinite iteration.
2. Change-making shouldn't stop at the level of content
My favorite session was "Questions to Ask as We Shift Towards Greater Inclusivity and Accountability", a discussion between Jane Raleigh, the Director of Dance at the Kennedy Center, and Melanie George, the Associate Curator and Director of Artist Initiatives at Jacob's Pillow, moderated by Theresa Ruth Howard, former ballet dancer, journalist, and founder and curator of MoBBallet.org. Each panelist discussed programming they've led to bring artists historically excluded from mainstream arts venues into their respective institutions. Importantly, these speakers emphasized the fact that merely bringing new voices into broken systems isn't enough: we have to change the systems themselves. Melanie George noted, "if you are changing the scope of the kinds of artists that you are presenting, you can't do it the way it has always been done. Because new ideas into old models typically fail. So make new models to accommodate the choices that you are making." Only once we change these models will we be able to sustainably platform a diverse set of artists.
3. Redefining goals is essential to making real change
These panelists also discussed the importance of rearticulating metrics of success when pursuing projects which seek to create change within institutions. Instead of focusing only on something like ticket sales to indicate whether or not a show was successful, they shifted their focus towards other metrics. Theresa Ruth Howard asked "How do you measure impact?... There are different measures. There are butts in seats. There is the way that people feel in the seat. Not just from what they are engaging with this way but as they walk through the door and they are on your campus. Do they feel like it is their campus?" All of these questions demonstrate the significant reframing that happens when inclusivity becomes a core goal. When meaningful goals are established, all members of an organization can work together to align their work with an overarching purpose.
4. Even from home, hybrid conferences allow for lots of connections
Boot Camp was a hybrid conference, so while some delegates participated in-person, others (like me) tuned in virtually. We've all experienced issues like subpar audio and visual quality at hybrid events – and worse, the feeling of not getting to be part of the conversation. Now, almost three years into the COVID-19 pandemic, organizations like Capacity Interactive have mastered the art of hybrid hosting. Boot Camp was hosted through Hopin, a web based platform that facilitated connection between in-person and remote participants. The platform featured a great chat tool that could be used in-session to speak with other delegates and submit questions to Q&As, as well as a networking tab that allowed attendees to connect outside of sessions. The live session feature of the platform also integrated multiple video and audio feeds, which meant that I was able to experience all elements of each talk with ease.
5. When accessibility is at the forefront, we all win
Which leads me to my next topic: accessibility! Capacity Interactive's three-video display integrated a live feed of speakers as they presented, a high definition version of the presentations and videos being projected on the theater's big screen, and an American Sign Language (ASL) interpreter who was on-site, interpreting live as the conversations unfurled. The three-channel video display meant that each of these elements remained visible for the entire conference. There was also a live-transcript tool that allowed me to read along as the speakers presented. The live transcript tool was an extremely useful way to stay caught up with the discussion and read back over parts of the session that were especially useful or poignant.
6. Gifs Galore!
Many speakers used Gifs in their presentations, ranging from animated articulations of web processes to cheeky movie and TV references. Not only did these Gifs create visual interest and keep the presentations exciting, but they also did a great job of illustrating the sometimes dense content. Seeing visualizations of virtual pathways in addition to verbal descriptions provided great context, and meant that when I tried certain tools on my own, I was already familiar with what those interfaces would look like and how to navigate them. Even the pop culture Gifs enhanced the practical content of the presentations – they provided easy to understand examples that strongly communicated thematic messaging. One presentation was entirely dog themed, and while fun, surprising connections to the material actually helped elucidate really technical subject matter. Sometimes an adorable Gif of a four-legged best friend is exactly what a presentation on first-party data strategy needs.
Spektrix was delighted to sponsor Capacity Interactive Bootcamp. Take a look at our events page to find out where you can meet us next!
SPEKTRIX EVENTS
Emily Bacal is the Marketing Operations Coordinator at Spektrix.