6 min read
Get ready for the Junk Fee Prevention Act - a guide for ticket sellers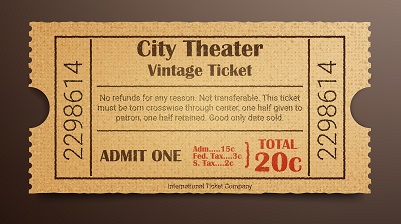 Ticket buyers and legislators are clamping down on hidden transaction charges. Make sure your marketing and box office systems are ready.
New York was first to pass a bill targeting hidden ticket fees back in 2022 - and in the wake of public outcry over recent onsales, many more states across the United States and Canada look likely to follow suit very soon. The Junk Fee Prevention Act requires ticket sellers to show all fees upfront - a change which offers more transparency to ticket buyers, improves customer experience, and builds trust between patrons and performing arts organizations.
Find out how you can update online purchase pathways, marketing campaigns and event management policies to ensure you're compliant ahead of schedule (and why it's good business, whatever state you're in).
The most important moment in an online transaction
"The most important moment in an online transaction - the moment where you need the greatest trust between your organization and your patron - is the moment when they pull out their wallet and make the payment. If that's the same moment you introduce fees for the first time, and the price you're asking them to pay increases by 10, 15%, that trust is broken." Michael Nabarro, CEO & co-founder, Spektrix
Michael was running a theater in Cambridge, England in 2007 when he realized there must be an easier and better solution to build connections between venues and their audiences. Since then, Spektrix has focused on creating ticketing, marketing and fundraising technology with those vital relationships at its heart.
"Though some audiences might still pay to see an artist or show they love, a lack of price transparency erodes audience trust and has a long term customer loyalty impact. Customers may be less likely to attend, to donate, or to add merchandise items, because they're already over budget on the fees." James Menezes, VP Client Success, Spektrix
James' extensive experience in mission-driven organizations gives him a unique perspective, balancing the immediate revenue needs of non-profits with the longer term benefits of customers who feel delighted, secure and respected in their interactions, both in-person and online.

We're not legal experts - as these bills come into effect, you'll need to explore exactly what they mean for your sector and state. But we are experts in online ticketing and customer service, and int that capacity we've identified three key practices that will help you promote events and booking journeys that are compliant, secure and trustworthy, building great customer experiences and ultimately improving relationships and revenue.
Download our full guidance on Customer Friendly Policies - advice on building lasting audience connections through honest interactions, extending a great front of house welcome into patrons' online experiences.
3 steps to ensure your ticket sales comply with the Junk Fee Prevention Act
Display ticket or transaction fees upfront
"Clearly and conspicuously display, in each advertisement and when a price is first shown to a consumer, the total price of the good or service provided … including any mandatory fees a consumer would incur during the transaction, which shall not change during the purchase process."
In other words, the true cost of a ticket must be upfront and obvious in the booking pathway from the beginning. This includes full transparency of any transaction or processing fees, rather than hiding fees in terms and conditions. The only exception is for fees related to a specific delivery option, such as a charge for mailing out tickets. More on that later.

Similar legislation has been in place in the UK for some time. This is how Spektrix users across the pond ensure transparency to ticket buyers.
Before the booking journey
In printed materials like posters and season brochures, show a single price or price range inclusive of all fees. This will also work on your what's on pages or live event listings, before customers click 'Book Now' to enter the purchase path.


In the UK, Victoria Theatre in West Yorkshire presents mainly one-night events. They list a single 'From £26.75' price point on their top level listings, linking out to further detail elsewhere in their brochure and website. They also explain clearly why their Theatre Support Fee is important and invite patron feedback.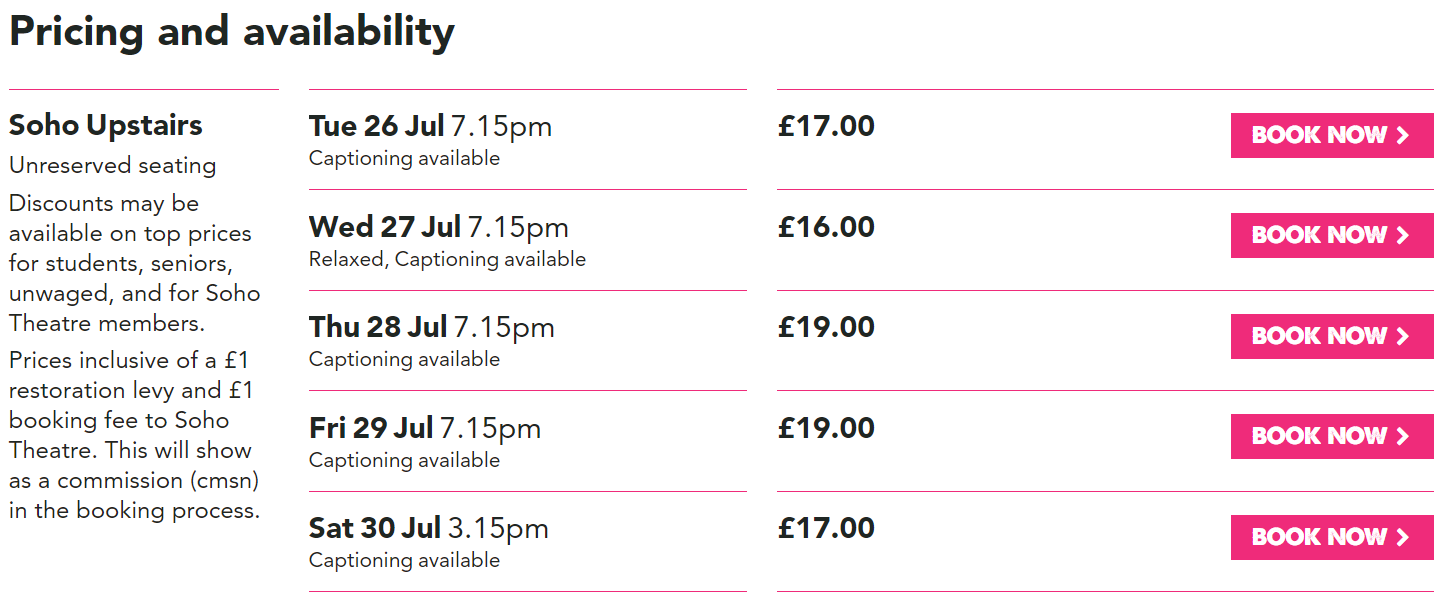 With longer runs, Soho Theatre in London lists out price points for different event dates on their website and provides detail of discounts and commissions in the text block to the left.
Within the booking journey
Once a customer enters the online booking journey, you may need to be a little more specific. This is your last opportunity to disclose full pricing to ticket buyers 'prior to the ticket being selected for purchase'.
Set up your ticketing system to itemize ticket commissions, then explore ways to show both the ticket value and the cost of any fees. How you approach this will vary depending on the number of price bands and concessions you offer, but here are some approaches already in use in the US which we think work particularly well.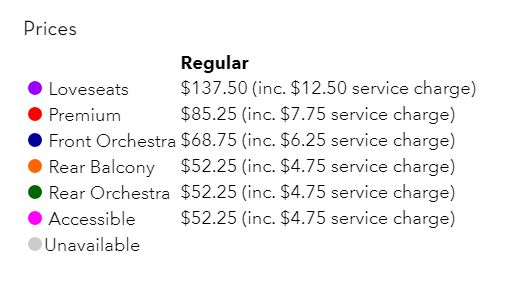 In Arizona, Fox Tucson Theatre itemize prices for multiple seating areas beside their seating chart, showing the complete price up front and then informing customers how much of that figure is a service charge.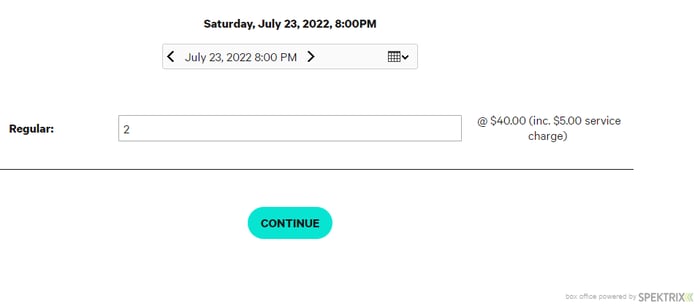 At the start of the purchase path, patrons at Two River Theater in New Jersey select the number of tickets they'd like. The complete price is listed to the right, and again it's immediately evident how much of that price is made up by the service charge.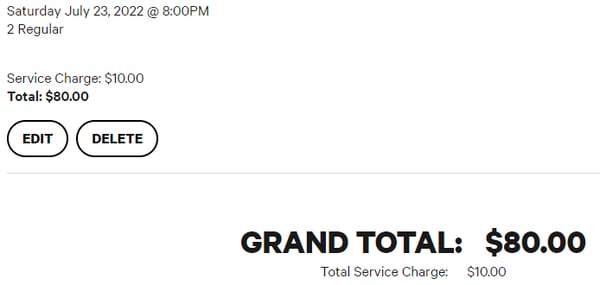 Before checkout, Two River's patrons have another chance to see the complete value of their cart with the service charge included in the Grand Total and itemized in a smaller font beneath it.
Setting it up in your ticketing system
If you're using a ticketing system like Spektrix that allows you to configure patrons' booking journeys on your own site, you can work with your web developers to present your own pricing and fee structure, taking inspiration from the examples above. If you're working with a system in which transactions are completed on a different domain - often called a white-label site - you may have less control, and you'll need to verify what steps your ticketing provider is taking to comply with the new legislation.
In Spektrix, you can configure ticket commissions to apply and display exactly as you wish across confirmation emails, seating plans and price lists. If you have complex pricing structures, you may need to work with your web developer to ensure this information is presented as clearly as possible. Here's how to set up or adjust your ticket commissions.
The ticket price should not increase during the purchase process
"(You) Shall not impose on a consumer or advertise any mandatory fees that are excessive or deceptive for any good or service offered."
We've all been tempted by an airline or big arena show advertising tickets for $100, only to find ourselves paying an additional $50 or $60 in service charges, processing fees and more. This kind of price gouging is exactly what the Junk Fees Act sets out to overcome. As US Senator Richard Blumenthal phrased it in, "Airline travel, concert going, common purchases - seemingly almost everywhere - consumers are compelled to pay hidden excessive charges. Our bill will help end this price gouging - forcing full disclosure upfront and restricting abusive fees. It will mandate basic common sense fairness and transparency, which consumers rightly demand and deserve."

While this legislation won't protect you against poor artistry on stage, the last thing your theater needs is to be associated with bad anything. To set yourself apart and build customer trust, make sure your total price is displayed clearly and consistently throughout the booking journey, and that the highest or total price is the most visible of all.
With Spektrix, customers stay on your website, from your What's On page right through to confirmation. But if your patrons are taken off your site to check out on a different domain, you'll need to work with both your own web developers and your ticketing provider to provide this level of consistency. Learn how you and your web developers can fully control the buyer's experience and the appearance of each step in the booking process.

This documentation is intended for your web developers and will help them style the information on your checkout pages. As a Spektrix user, don't forget that our Client Success team is here to help if you have any further questions, and that we're happy to chat to venue teams or directly to web developers to help you get ready for the new bill.
Can you still charge delivery fees for tickets?
Simply put, you can't add fees for electronic ticket delivery but you can apply reasonable charges for fulfillment methods that involve an actual cost to you - such as printing or mailing out paper tickets. Again, the fees must be quoted clearly so your customers are able to make an informed decision about their preferred method of delivery.
In your ticketing system, check the settings for different delivery methods to ensure you're not adding charges for electronic/print at home tickets and to adjust the fees for other delivery methods if you think they might be considered 'unreasonable'. In Spektrix, you can do this by setting up transaction commissions.
Clearly demonstrate your refund policy
"Disclose any guarantee or refund policy prior to the completion of a transaction by the consumer and, in the event of a refund, provide a refund in the amount of the total cost of the ticket including any mandatory fees."
This one's pretty simple - be honest about your refund policies, and provide refunds in full. This only applies to mandatory fees, like a service charge - it's your choice whether to refund optional charges for physical tickets, payment types or similar.
In some systems it can be surprisingly tricky to refund fees along with a ticket purchase. Check that your system allows you to see and refund fees as well as ticket price when you edit or return a transaction; in Spektrix, for example, you'll see a breakdown of every cost associated with the original transaction, and can include or exclude them from any refund at the click of a button.
Helping you prepare for the June Fee Prevention Act
Spektrix is committed to helping arts, culture and live entertainment organizations succeed. We're happy to share more of what we know about supporting users to comply with similar legislation, and we'd love to hear your ideas for turning this legislation into an opportunity to improve your patrons' booking experience.

If you're already using Spektrix, get in touch with our Client Success team. We're happy to support you or your web developers to make any changes you need.

If you're not using Spektrix, we're still here to help. As a certified B Corporation, we're invested in the success of the arts sector.
Talk to one of our CRM and ticketing experts about implementing these changes in your organization.