6 min read
Using Your Event CRM to Increase Secondary Spend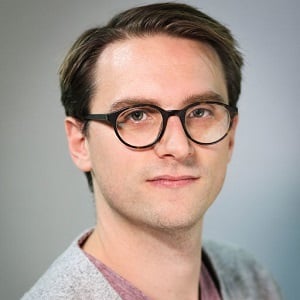 Tom Nolan 06 October, 2017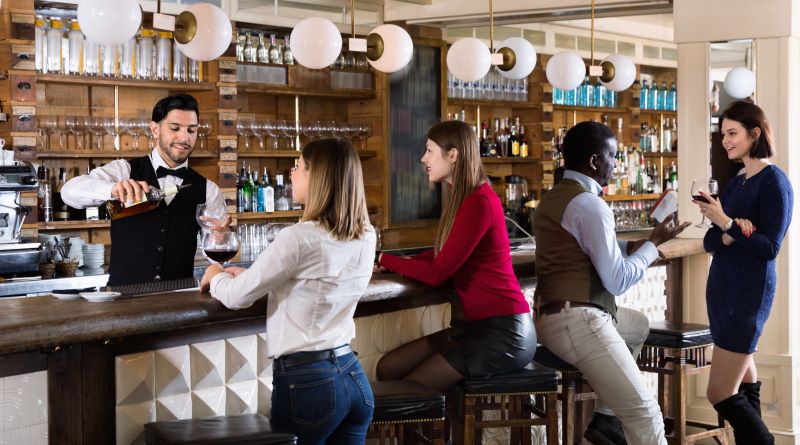 There's more to sell than tickets. Your event CRM can highlight the right secondary spend add-ons to enhance your customers' experience.
The main source of earned income for most arts organisations is from ticket sales made at the box office or on their website. However, we know that the potential for generating revenue stretches far beyond tickets.
Many organisations have more to offer their customers. These items tend to have a good profit margin and can be sold to a captive audience.
Upselling secondary spend items works well because customers have already made the decision to spend with you, and they'll also have trust and a degree of loyalty with your brand. At Spektrix, we often discuss theatre marketing strategies to build revenue through secondary spend but now we're going to show you practical ways to implement these through your event CRM system.
When visiting venues we often overhear customers expressing surprise that there is a food offering, parking, or a shop on-site. So, it's important to get the word out about what else your venue has to offer and to do this at the right time, which is usually before they actually arrive at your venue.
In this tough financial climate, it's important that you maximise your opportunities to help support your core activity.
Set Up Related Events and Items
As a customer, it's often easy to miss all that a venue has to offer, especially if you're visiting for the first time. So, it's really important to make sure you display all options clearly, ensuring to emphasise the most relevant things.
A great example of this is making sure things such as meal deals and parking are clearly available to customers, as well as pre-show talks, tours, and other show-related activities.
How to do it
In Spektrix, we have a user-friendly Supplementary Events function that allows you to set up relevant events that will be suggested from within the basket as the customer progresses through the online booking journey.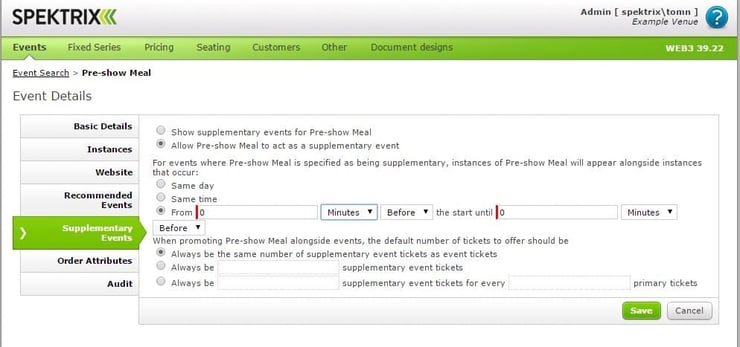 Choose which events will be suggested by defining their relationship with the items already in the customer basket. For example, you could link a post-show talk to a Thursday evening performance. You might set the parameters to events that fall on the same day, or even be more specific, such as within hours or minutes of the item already in the basket.
As well as being relevant, the process of purchasing additional items needs to be simple, capitalising on the moment the customer decides to make a purchase. Customers who are prompted to purchase supplementary items when booking online should easily be able to add these additional items to their basket in a single click.
The easier this process is, the more likely customers are to increase their overall basket value without having to search around to find what you have to offer.
Merchandise on your website
The point of booking is also a good opportunity to sell merchandise items, such as programmes or t-shirts, specific to the event the customer is booking for. Selling these items online in advance entices the customer to become more engaged with the event they will attend. Plus, it improves the customer experience as you reduce the pre-show and intermission lines.
Your event CRM can make it easy to make these relevant suggestions to your customers at the point of booking by allowing you to attach merchandise items to a related event or a number of events. Again, this means a relevant suggestion appears in the customer's basket and can be converted to a purchase with one click.
These merchandise items should be readily available whenever customers visit your website. This might not always be at the same time as they book tickets, so it should be easy to find these items when landing on the homepage. Your website should be designed with the customer in mind so that they can quickly navigate to where they want to be. If your customers have to root around to find what they are looking for, then you run the risk of losing their interest.
How to do it
In Spektrix, you can add a simple shop page to your website using our merchandise iframe. You have the option to set up merchandise items to cross-sell to one or more events. This is a really simple setup and takes just a few clicks.
Plus, think about filtering your shop page so that customers can find the product they are looking for more easily.
For some inspiration, Tron Theatre in Glasgow, Scotland, has a prominent 'Gifts & Memberships' page, that is eye-catching and easily sortable.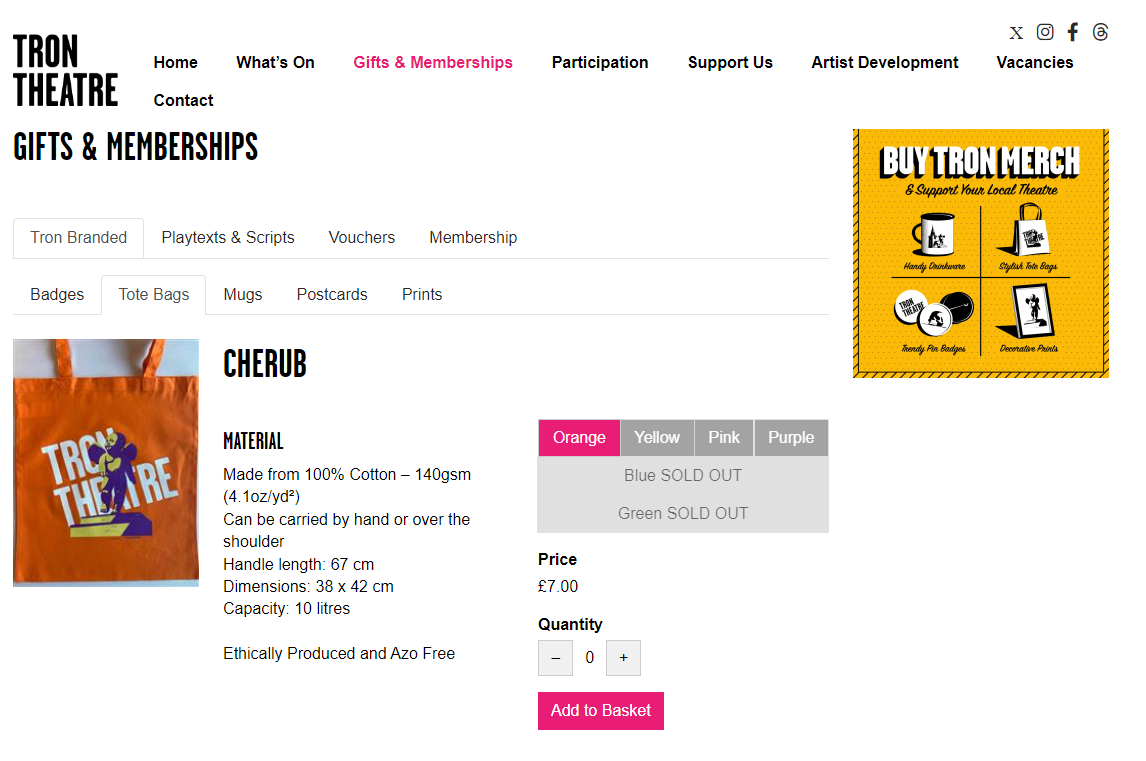 And remember, you can sell parking and food from your site as well. Take a look at how Mercury Theatre in Colchester, England, presents a wide array of secondary spend options right there in the Mercury Shop, from plushies to parking.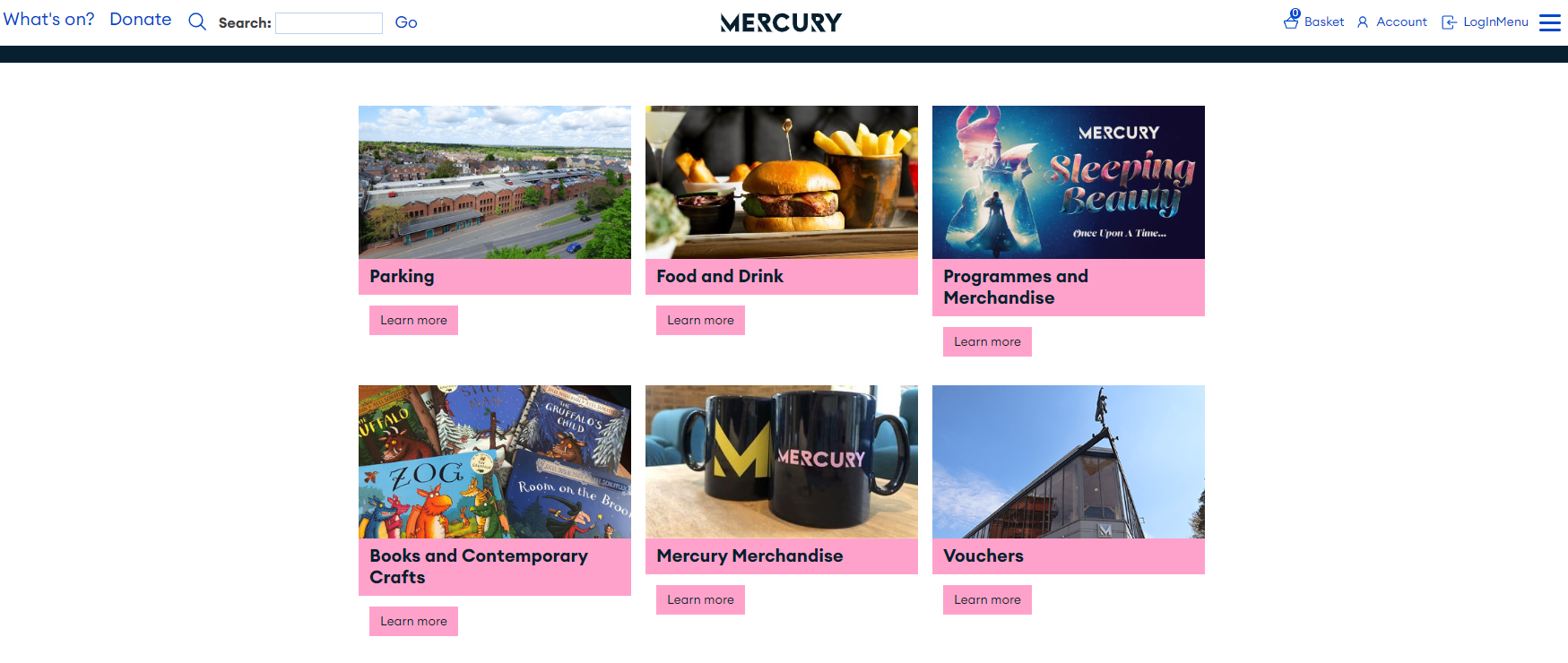 We also love how Fox Theatre in Tucson, Arizona, opens their gorgeous shop page by helping customers understand why they should buy their merch and how it supports the theatre.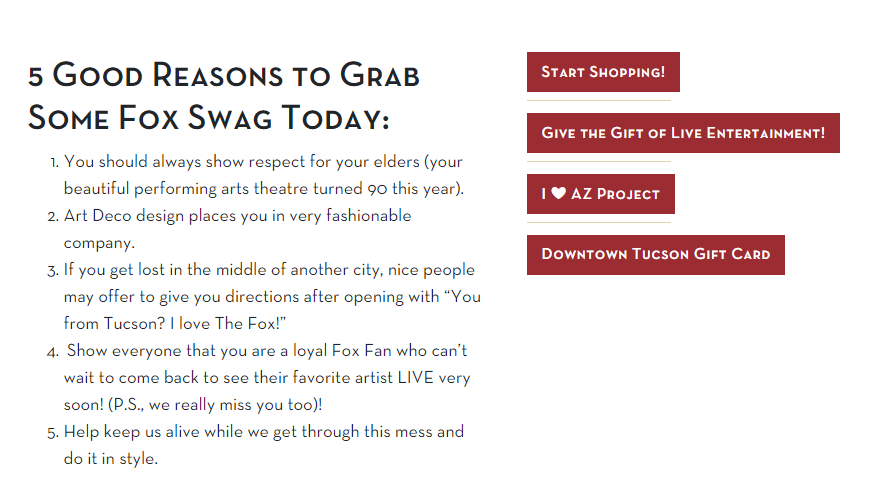 Send automatic pre-show emails
The above ideas catch those customers who are planning ahead and are able to make decisions about their visit at the time of booking tickets. This will be effective for many, but not all audiences behave in this way.
To catch those customers who make secondary spend purchasing decisions a little closer to the time of their visit, you'll have more success by mirroring their purchasing behaviours in your approach.
An effective way to do this is with pre-show emails. Pre-show emails can be used to let customers know all the pertinent information before they visit, but can also be used to promote merchandise and everything else you might be offering.
How to do it
Set up different emails for different events, dates, days, and times. This allows you to ensure that your offer is relevant to the event that has been booked.
You can use the in-house knowledge of your audience spend here too. Perhaps the Monday email should include a promotion for the bar to increase sales on what is one of your quieter days, whereas the Friday night crowd probably need less persuasion.
You probably want to alter the tone for different customer groups too, so think about sending a different email to your first-time bookers, perhaps with information about venue access or your organisation's charitable aims.
With your event CRM's reporting and segmentation tools you can easily monitor the success of these campaigns. Test, measure, refine and repeat until you reach an optimal stage.
Making your pre-show emails timely will improve their effectiveness, so why not try experimenting as you send these emails to different types of customers?
In Spektrix, you can create automatic tags to build these segments dynamically, based on real-time audience behaviour to tailor your pre-show email based on audience behaviour. Try creating an auto tag for patrons who tend to book late (fewer than 2 weeks in advance) and then schedule an automated email that goes to this group one day before they are due to attend, using what you already know about their behaviour to improve the success of your communication. For those who booked further in advance, it's more appropriate, and more likely to be read, if sent out around one week before they visit.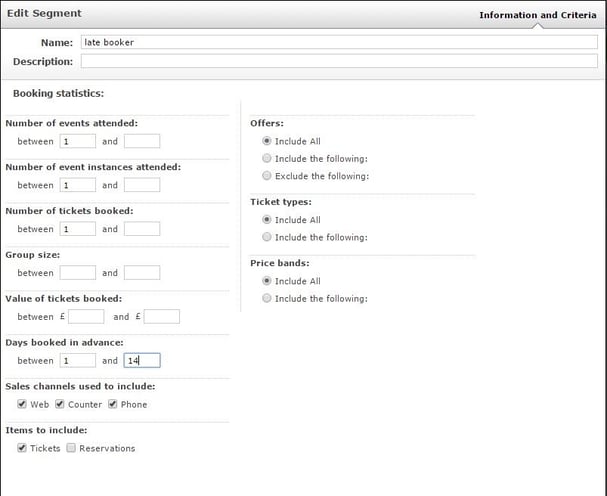 Including links and tracking these to your website will help you gauge how engaged your customers are with different campaigns and messaging. Again, you can use the knowledge from your reports here to see if you are getting things right.
Don't be afraid of switching things up. Just remember to keep monitoring how successful changes are with your segments and audiences.
Pro-Tip: Spektrix Partners Can Take You Even Further


Combining Spektrix CRM functionality with partner solutions like Crowd Engage and VisitOne enables our clients to power pre-visit communications and drive revenue generation.
Actively market your offerings using audience segmentation
In Spektrix, you can segment contacts using a tool we call Customer Lists - which is great for targeted marketing campaigns and also handy for helping generate revenue for your supporting items as they let you actively promote items to your customers. As with marketing for events, you want to make sure that your campaigns are segmented intelligently so that your offer is relevant and enticing.
How to do it
There are a number of ways you can use the Customer Lists functionality to do this. Here are a few examples you could use with customer and purchasing segments:
Customer Segments
If you offer parking, send an email to all those customers who are due to attend in the next month and who you know live in an area where they could not easily reach you on foot.
You can do this by using a booking segment for events coming up in the next month alongside a Customer Segment looking at geographical location.
Purchasing segments
You can use previous purchase behaviour and purchasing segments to market these supporting items in the same way as you do with tickets.
Try building a customer list based on previous purchasing behavior, so you can plug your secondary spend items to customers that have previously purchased these or similar items in the past. Or you could look at those who are likely to have a higher propensity to spend more by looking at the ticket purchase behaviour. For example, do they always buy the top price ticket?
It's important that you maximise your revenue potential at all your touchpoints, so don't neglect those booking over the phone or in person. Your box office staff can be trained to upsell these items, and it's important that they're confident and informed enough to be able to do this successfully.
You can handle this by creating a customer group for the customers identified in your customer lists so that your box office teams can upsell relevant secondary spend items to those most likely to take advantage of it. This way you're making all your audiences aware of what else you have to offer, no matter how they choose to book.
As well as increasing revenue, this enhances the customer experience leaving them more likely to return.
Maximise your revenue with secondary spend
There's so much more out there than just selling tickets. Your organisation is selling an experience. By upping your secondary spend game, not only will you be able to increase revenue, you'll also be giving your audience members a better and more satisfying experience.
---
Tom Nolan (he/him) is Head of Global Ecosystem at Spektrix.