3 min read
Why an inclusive culture is key to hiring and retaining great teams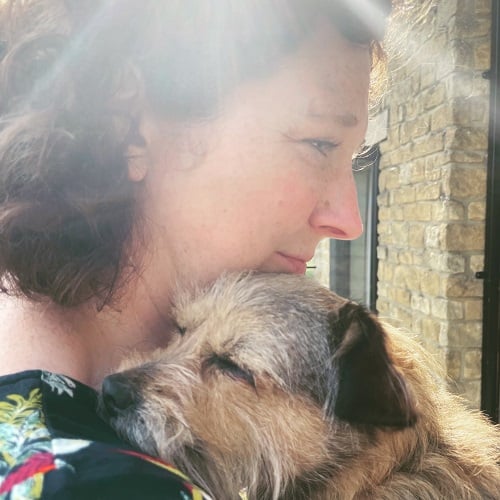 Bryony Bell August 7, 2023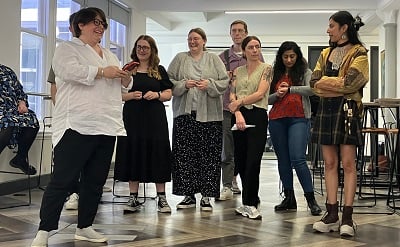 Diverse recruitment is good for everyone. So how do you create an inclusive culture and share it with great candidates outside the arts sector?
In 2021 Spektrix published Rethinking Recruitment, a resource designed to help arts and entertainment organizations attract a greater diversity of candidates to ticketing, marketing and fundraising roles.

We shared our key learnings with the UK Theatre network, explaining how inclusive recruitment can increase the diversity of demographics, ideas and experience within your team - and how to build greater equity through your hiring and retention. UK Theatre's Inclusive Recruitment Guide aligned closely with what we've learned - and today, we're exploring how an inclusive company culture can ease the way to diverse recruitment.
Inclusive recruitment in practice:
Nottingham Playhouse

Nottingham Playhouse, a receiving and presenting theatre in the East Midlands of England, has recently reviewed recruitment policies as part of its own EDI work, aiming to increase the diversity of its team across multiple demographics, but particularly in terms of socio-economic diversity - a focus driven by the specific needs of Nottingham's communities. Starting with Front of House and Box Office roles, they changed their job descriptions and advertising to focus on aptitudes, rather than practical experience - making it easier to promote opportunities across a wider range of outlets, and to attract a wider pool of applications.
"We can teach somebody software but you can't teach somebody to be nice to people and helpful and want to problem solve and all of those really key customer service skills. We basically stripped out previous experience, and we really thought about what somebody needs to do the job, rather than how many years' experience they had. So looking at competencies and attributes rather than whether they've worked in Box Office before" Joanna Sigsworth, Head of Marketing & Communications, Nottingham Playhouse
Today, Nottingham Playhouse has extended its inclusive recruitment to entry level marketing roles and technical teams, as well as creating more apprenticeships. In parallel, they've consciously set expectations internally to build in training from the start, taking advantage of tools like Spektrix and dotdigital which they can teach quickly, provided they've hired people with the right potential.


Creating and measuring an inclusive culture
Company culture might feel intangible or jargony, but in essence it's simple. What does it feel like to work at your organization? What welcome do people receive? Does everyone experience the same inclusive atmosphere?

Broken down like this, culture becomes easier to track. Use simple surveys or demographic data to measure feelings of wellbeing and inclusion across your team, check that everyone has equitable access to learning and development, and ensure that hiring and promotion is helping you build a more diverse team.

Once you understand what works, you can change what doesn't. Building a fully inclusive culture will take deliberate effort, and conscious choices about what you're trying to achieve. But the good news is, those choices have often already been made.

Your company's mission can influence internal culture just as much as your outward facing work. Supporting every team member to see how their work relates to your mission, how they can measure success, and where they can change and improve to meet shared goals.

At Spektrix our mission, in brief, is to work in partnership with arts, culture and entertainment organizations to build audience relationships and organizational health. By connecting every role to that shared mission, we know that when our engineers build new features, they do so with our users' needs in mind; when we respond to Support requests, we're offering answers that will support long term strategy, and not just solve immediate challenges; and that office-based support roles are focused on enabling and internal efficiencies that ultimately contribute to users' success.
Put your mission at the center of team culture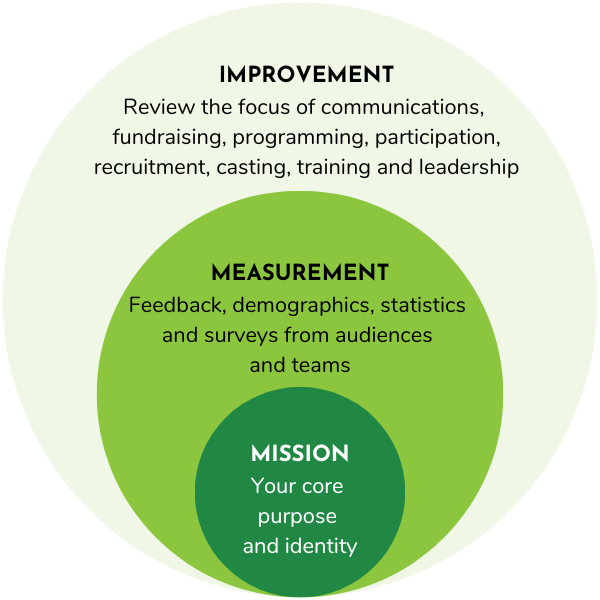 Tell stories that represent your culture
Once you've built a great culture, put it at the heart of your storytelling. Content that demonstrates how you live your values may well interest audiences and funders, as well as candidates.

Consider the brands that you engage with. Some might give you a warm feeling inside - you enjoy interacting with them and investing in their product. Others might win your custom out of necessity or convenience, but don't align with your values.

Then find opportunities to build that same affinity with your organization. You're trying to 'sell' your organization to potential candidates - and your inclusive values may be central to their decision. Share your culture across multiple formats and touchpoints to speak to every candidate.
Employee stories. Once you're confident that your team members are invested in your culture, invite them to share their stories. At Spektrix, women engineers shared their experiences proactively, because company values were embedded into their experience from day one.
Statistics. Be transparent about the demographic makeup of your team, so candidates understand what to expect. At Spektrix, we publish annual data across ten demographic characteristics.
Activity. Share news about employee activity - whether you're working remotely, coming together in person, volunteering as a team, or building affinity groups within your organization - show off what you're doing to continually improve DEI.
Marketing your stories to the right audience
Finally - get your stories in front of the right people. Arts organizations often rely on sector-specific jobs boards, like Arts Jobs or UK Theatre's Job Vacancies. They're great - but they may not break through to candidates outside the sector.
Create great job packs or careers pages showcasing employee stories. Help interested candidates understand who you are and why they should apply.
Identify relevant search terms, research them using tools like Google Analytics, and optimize your content. Could your next Front of House manager be searching for customer service roles or flexible hours, rather than theatre jobs?
Share beyond the usual channels. LinkedIn's new Life Pages are a great way to share your culture; Drumrole lists jobs that put people and planet first.
Spektrix provides a ticketing, marketing and fundraising CRM solution to 600+ arts and culture organizations, and is certified as a B Corporation. Get in touch at any time for a chat about living and sharing your values.
---
Bryony Bell (she/her) is Head of Content at Spektrix