5 min read
How to Create Arts Marketing Campaigns That Drive Up Retention
Think back to last season. Chances are a good portion of the organization's marketing budget and staff time went toward bringing new patrons — if not most of it. In the resource-defying world that is arts marketing, organizations often emphasize attracting new ticket buyers, and they are good at it.
But what happens to those people after they attend their first season, once they're no longer new? They are already engaged and listening. So why do so many organizations dedicate fewer resources to getting those patrons to return, attend more performances, and build more patron loyalty over time?
In 2018, 56% of patrons were first-timers, but only 31% of patrons who booked the previous year returned the following season. (This varied, of course, by genre, as illustrated in the chart below.)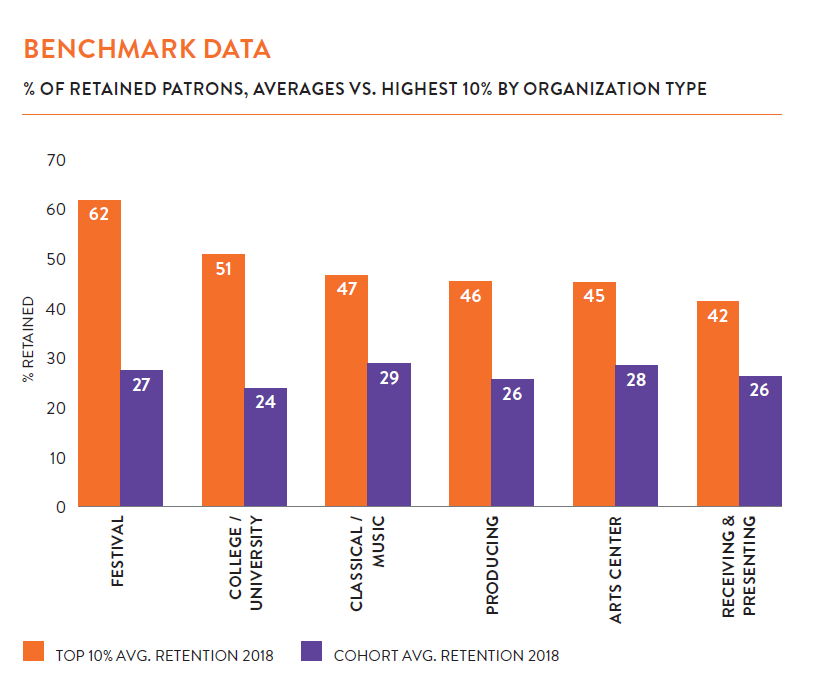 Considering that the 56% of patrons already know a little about what the organization has to offer, why is there such a gap to cover in getting that cohort to come back year after year?
Here are some considerations for arts marketers to make when they revisit their retention efforts. The insights in this article have all been informed by strategies from organizations that lead the pack on retention. By developing a clear understanding of the patron loyalty stages, tracking the right patron information and using it to craft targeted communications strategies, arts marketers can drive change at their organization and increase ROI from their retention campaigns.
Define the patron loyalty stages
Organizations that prioritize retention out-perform the averages by almost double, bringing in upwards of 50% of returning patrons, according to a study of 350 arts organizations in the U.S., Canada and the U.K. When surveyed, the bulk of these successful organizations said their retention work starts from a common place: defining the patron loyalty stages.
These exact definitions vary based on the institution, but having a clear framework for how they are building loyalty with their audience that's consistent across the whole organization is essential for retaining patrons.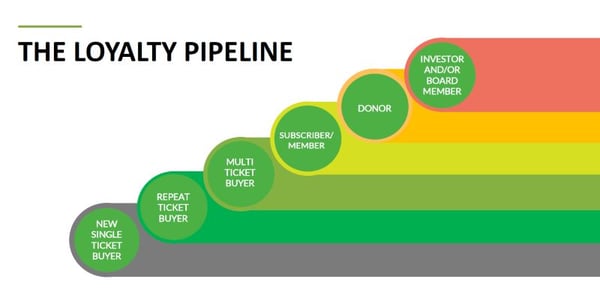 Here's one example that outlines loyalty in the following stages:
New single ticket buyer: First-time patrons who have completed their first interaction with the organization.
Repeat ticket buyer: Patrons whose first experience (and any communications outside of that) prompted them to make a second visit.
Multi-ticket buyers: Patrons who are starting to become invested in the organization and buy tickets for themselves and others.
Subscriber/member: Patrons who have committed to regularly seeing an organization's offerings by buying into their loyalty program (subscription, multi-show package, or however that may work at the organization).
Donor: Patrons who have taken the next step to support the organization via charitable giving (and the range of donor stages involved in that).
Investor and/or board member: Patrons who have a deep relationship with the organization and channel their involvement and giving into the organization's strategic management as an investor or board member.
As patrons in the loyalty pipeline move toward donor and investor, the organization's relationships to those patrons grows deeper and the amount of revenue from each patron grows. At the same time, the cost for the organization to retain those patrons decreases: They are already invested and the established loyalty gives them an intrinsic drive to support the organization.
The data that arts marketers should track
Defined loyalty stages serve as the outline for the next step in building retention: Pinpointing what behaviors make patrons fit into each stage. Tracking and analyzing patron data lays the groundwork for creating a segmented CRM strategy to communicate with patrons and move them up the loyalty ladder.
Arts marketers should track patron details that go beyond demographics; that only gets them so far when it comes to loyalty. Instead, they should look at ways to track patrons' behavior, which can inform them on patrons' shared interests and needs.
Arts marketers should track:
What shows patrons have attended and when
What supplementary events patrons have gone to (i.e. talkbacks, show-specific happy hours)
Patrons' history with the organization's loyalty programs (i.e. subscriptions, memberships or season passes)
Patrons' donation and solicitation history
Non-ticket purchases (i.e. concessions or merchandise)
Patrons' use of discounts or promotions
Patrons' interactions with promotional materials (i.e. opens or clicks)
While it might not be possible to track all of these details, working to capture more context on how patrons interact with the organization is key to grouping patrons based on similar behaviors. This, paired with the organization's loyalty framework, is key to building targeted communications that engage each patron group and work to move them to the next loyalty level. It also lays the groundwork for identifying the behaviors that help nurture a new ticket buyer into a repeat buyer. Marketers should report on each group to identify trends that emerge when they convert to a higher loyalty level, i.e. after attending certain programming or receiving certain communications.
Techniques for segmentation
With an understanding of their organization's loyalty stages and the behaviors that link patrons to those stages, arts marketers can execute their segmentation strategy and create a communications plan for engaging those patrons.
In order to capture and segment on all of the necessary patron behavior details, arts organizations should work out of a single database. Having a single customer view where all of a patrons' actions are recorded in once place allows arts organization to create granular, tailored massaging. It also allows organizations to track their campaigns' success.
For example, an organization might have a season goal to move more multi-ticket buyers into the member category. They decide to create a campaign targeted toward multi-ticket buyers encouraging them to try out a membership by offering them a discount on their first membership. To segment these patrons, the organization would need to be able to record which shows patrons had attended throughout their history with the organization and whether they had purchased a membership before. It also would be helpful to know whether they had ever donated, because those patrons might call for different messaging.
After segmenting out that patron group and developing fitting messaging for them, the organization can send the campaign along its way. It would then want to run reports on that patron group to see how many converted to members throughout a given period. From there, they would want to segment (A) their new members and (B) people in the targeted group who did not redeem the membership offer. For group A, the organization could develop messages that thank and later prompt them to buy a full membership next season. For group B, arts marketers could resend the offer email to see if the reminder prompts them to act. Patrons who are still not responsive, can be re-categorized as single ticket buyers.
To do this, arts organizations need to be able to track purchases across ticketing, memberships and donations as well as offer redemption, and all of these behaviors need to dynamically update into the same record with every new patron transaction. They also need to track how patrons respond to email marketing and to run reports on these behaviors.
Having a single customer view allows for effective segmentation because it takes the full range of patrons' behavior into account and helps organizations respond to them with the appropriate messaging, creating the best chance possible for them to engage and build loyalty.
How successful organizations leverage segmentation
Because loyalty can look for different from organization to organization, there is no one way to build a successful retention strategy. Organizations can channel the building blocks of defining loyalty stages, tracking patron data and segmenting into finding what approaches work for them and their patrons.
Here is how one organization did exactly that: Ensemble Theatre in Cincinnati, OH started their retention efforts when they opened in 1986 to compel patrons to return to their Over-the-Rhine neighborhood. Now, they have expanded their retention focus to accommodate the digital-driven ways their current audiences book tickets and donate.
Ensemble Theatre defined their loyalty stages by developing a patron loyalty map to serve as a visual tracker for the staff as they work to move audience members from ticket buyers to reattenders and then subscribers. They collect a full range of patron information and segment patrons based on their attendance in a given time frame. They encourage reattendance with targeted, generous, and timely offers to upcoming shows. They then move patrons who have attended multiple times up the loyalty ladder and repeat the process, this time targeting them as potential subscribers.
Having the ability to track all of their patrons' behaviors in a single view has been central to creating this digital-first approach to loyalty, said Jocelyn Meyer, Ensemble Theatre's Director of Marketing and Communications.
"The vast majority of our strategies surrounding audience retention have been made possible by using technology which allows us to segment, track and action our plans. An integrated email platform has had a major impact on audience loyalty," Meyer said.
To read more about the techniques arts organizations are leveraging to increase retention, download Chapter 1 of the 2019 Insights Report: Uncover How Patron Loyalty Accelerates Growth
More insights and best practice ideas from Spektrix
Hailey Colwell is a former Marketing Manager at Spektrix